Penerapan Algoritma HRN pada Sistem Informasi Penjadwalan Mekanik di Ditech Injection
Keywords:
Hight Ratio Next Algorithm; Scheduling Information System.
Abstract
Ditech Injection Workshop is a company engaged in the maintenance of car vehicles which was established in 1998, located at Jalan Cikutra 172 and Jalan Cipedes Tengah 196 Bandung. Ditech Injection Workshop strives to improve the quality of car repair services in order to maintain competition with other workshops. There is a problem in the Ditech Injection Workshop, there are 3 to 10 consumers in 1 day who only want to be served by one mechanic, but the information on activities being carried out by the mechanic and the work time is not scheduled so the admin does not know the work being done and the estimated waiting time what is needed by consumers. Based on these problems the development of information systems is carried out by applying the HRN (Hight Ratio Next) algorithm which can help in arranging the queue service schedule. Additionally it can provide mechanical scheduling information, provide waiting time information and service priorities. The results of this study are a mechanical scheduling information system by applying an HRN algorithm that helps provide mechanical schedule information, calculate service priorities and customer waiting times
References
[1] A. S. Kusuma and I. G. S. E. Putra, "Rancang Bangun Sistem Penjadwalan Wawancara Mahasiswa Baru STMIK STIKOM Indonesia," J. Ilm. Teknol. Inf. Asia, vol. 11, no. 2, p. 139, 2017, doi: 10.32815/jitika.v11i2.202.
[2] S. Hariningsih and E. Z. Astuti, "Efisiensi Waktu Proses Algoritma Non Preemptive?: Highest Ratio Next Dan First in First Out," Techno.com, vol. 13, no. 2, pp. 84–90, 2015.
[3] D. Wahyuningsih, "Rancangan Sistem Penjadwalan Akademik Menggunakan Algoritma Max Min Ant System (Studi Kasus: STMIK Atma Luhur Pangkalpinang)," J. Edukasi dan Penelit. Inform., vol. 1, no. 2, 2015, doi: 10.26418/jp.v1i2.11654.
[4] M. Destiningrum and Q. J. Adrian, "Sistem Informasi Penjadwalan Dokter Berbassis Web Dengan Menggunakan Framework Codeigniter (Studi Kasus: Rumah Sakit Yukum Medical Centre)," J. Teknoinfo, vol. 11, no. 2, pp. 30–37, 2017, [Online]. Available: https://ejurnal.teknokrat.ac.id.
[5] I. B. Trisno, D. T. Hidayat, U. Widya, K. Surabaya, M. Kuliah, and S. Prioritas, "Sistem informasi penjadwalan dan pengumuman perkuliahan," Semin. Nas. Ilmu Terap. 2017, pp. 2–5, 2017.
[6] U. Wahyuni, "Rancang Bangun Sistem Informasi Penjadwalan Kunjungan Narapidana Di Lembaga Pemasyarakatan Klas I Di Kabupaten Jeneponto Sulawesi Selatan," Skripsi, 2017.
[7] A. Anisya and E. Allazi, "Rekayasa Perangkat Lunak Penjadwalan dan Pemesanan Iklan Radio (Studi Kasus?: Radio Classy FM)," J. CoreIT J. Has. Penelit. Ilmu Komput. dan Teknol. Inf., vol. 3, no. 2, p. 82, 2018, doi: 10.24014/coreit.v3i2.4420.
[8] G. T. Sanjaya and B. Sumboro, "Rancang Bangun Aplikasi Penjadwalan Kuliah STMIK AUB SURAKARTA Berbasis Web," J. Ilm. Go Infotech, vol. 21, no. 1, pp. 37–42, 2015.
[9] "The Unified Modeling Language." https://www.uml-diagrams.org/ (accessed Jul. 22, 2020).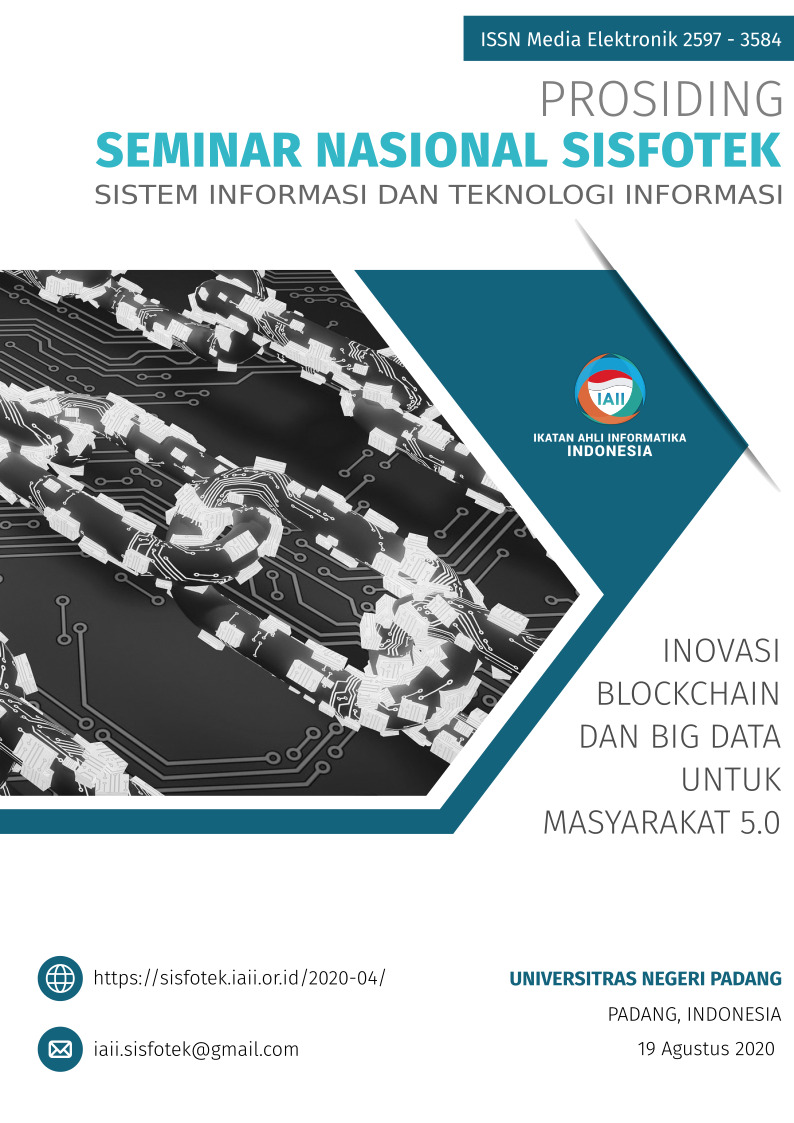 Downloads
How to Cite
Marwati, S., Pudjiantoro, T. H., & Santikarama, I. (2020). Penerapan Algoritma HRN pada Sistem Informasi Penjadwalan Mekanik di Ditech Injection. Prosiding SISFOTEK, 4(1), 30 - 34. Retrieved from http://seminar.iaii.or.id/index.php/SISFOTEK/article/view/147
Section
2. Rekayasa Sistem Informasi