Sistem Pendukung Keputusan Proses Rekrutmen Dengan Metode Simple Additive Weighting dan Fuzzy Logic
Keywords:
HRIS, Sistem Pendukung Keputusan, SAW, Fuzzy Logic, e-recruitment
Abstract
Sistem informasi merupakan bagian yang tidak dapat dipisahkan dari kegiatan operasional perusahaan, salah satu penerapannya dapat dilihat pada proses pengelolaan SDM (Sumber Daya Manusia), yaitu HRIS (Human Resource Information System). SDM adalah hal utama yang mendukung berjalannya proses bisnis perusahaan, untuk itu perlu dilakukan seleksi melalui proses rekrutmen. Proses rekrutmen adalah langkah awal perusahaan untuk mendapatkan SDM yang berkualitas dan sesuai dengan posisi pekerjaan yang dilamar. Proses ini memakan waktu yang cukup lama apabila dilakukan secara manual (paper based), seperti yang masih dilakukan di perusahaan PT. Agricon Putra Citra Optima (APCO). Untuk itu perlu dibangun satu Sistem Informasi yang dapat membantu perusahaan menyeleksi pelamar melalui pengecekkan kesesuaian profil CV (curriculum vitae) dan kebutuhan minimal perusahaan.   Sistem informasi dibangun menggunakan metode sistem pendukung keputusan SAW (Simple Additive Weighting) dan Fuzzy Logic, yaitu dengan menentukan nilai bobot untuk setiap kriteria yang dilanjutkan dengan memberikan peringkat untuk menyeleksi alternatif terbaik dari pelamar yang ada. Selain digunakan oleh perusahaan, Sistem Informasi e-recruitment ini juga memberikan kemudahan untuk pelamar melamar pekerjaan dan melengkapi CV mereka. Aplikasi ini dibangun dengan metodologi waterfall dan memakai bahasa pemrograman PHP dan JavaScript. Semua data yang diperlukan disimpan pada database dengan menggunakan MySQL. Aplikasi ini diharapkan dapat membantu dan mempermudah perusahaan dan pelamar dalam melakukan proses rekrutmen.
References
[1] C. Maier, S. Laumer, A. Eckhardt and T. Weitzel, "Analysing the Impact of HRIS Implementation on HR," The Journal of Strategic Information Systems, vol. 22, no. 3, pp. 193-207, 2013.
[2] T. Bondarouk, D. Schilling and H. Ruel, "eHRM Adoption in Emerging Economies: The Case of Subsidiaries of Multinational Corporations in Indonesia," Canadian Journal of Administrative Sciences, vol. 33, no. 2, pp. 127-137, 2016.
[3] S. M. Badgi, Practical Guide to Human Resource Information Systems, New Delhi: PHI Learning Private Limited, 2012.
[4] J. D. Richard, M. Thite and M. J. Kavanagh, Human Resource Information Systems 3rd Edition, Los Angeles: SAGE Publications, Inc., 2015.
[5] W. F. Cisco, Managing Human Resources 9th Edition, Colorado: McGraw-Hill Education, 2013.
[6] A. Smith, "Searching for Work in the Digital Era," Pew Research Center, 19 November 2015. [Online]. Available: http://www.pewinternet.org/2015/11/19/searching-for-work-in-the-digital-era/. [Accessed 25 April 2017].
[7] D. Schuff, D. Paradice, F. Burstein, D. P. J. and R. Sharda, Decision Support: An Examination of the DSS Discipline, New York: Springer, 2011.
[8] D. Nofriansyah, Konsep Data Mining vs Sistem Pendukung Keputusan, Yogyakarta: Deepublish, 2014.
[9] S. Kusumadewi and H. Purnomo, Aplikasi Logika Fuzzy untuk Pendukung Keputusan, vol. II, Yogyakarta: Graha Ilmu, 2013.
[10] A. Dennis, B. H. Wixom and R. M. Roth, System Analysis & Design with UML, Singapore: John Wiley & Sons, Inc., 2013.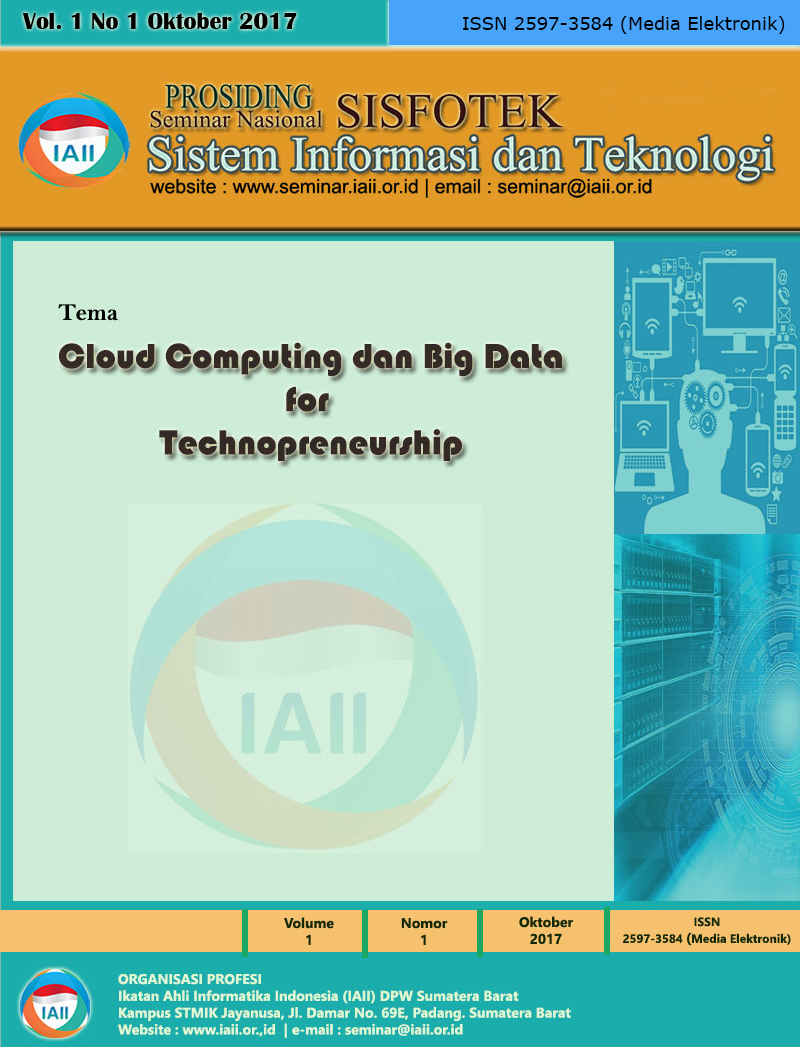 Downloads
How to Cite
Octaviani, A., Simanjuntak, K. G., & Hery, H. (2017). Sistem Pendukung Keputusan Proses Rekrutmen Dengan Metode Simple Additive Weighting dan Fuzzy Logic. Prosiding SISFOTEK, 1(1), 75 - 82. Retrieved from http://seminar.iaii.or.id/index.php/SISFOTEK/article/view/18
Section
2. Rekayasa Sistem Informasi
License
http://creativecommons.org/licenses/by/4.0