Sistem Pengelolaan Persediaan Berdasarkan Pola Hubungan Antar Produk Buah Olahan Menggunakan Association Rule Mining
Keywords:
association rule, a priori, inventory, data mining
Abstract
association rule is analogous to a shopping basket. From the shopping basket the supermarket visitors will be able to know, what items are often bought together and which items are not. CV. Anugrah Paris Van Java is a company engaged in the processing of processed fruits such as ready-to-drink juice, concentrate and syrup. Customer's buying patterns are influenced by product inventory. The process of managing product inventory is managed manually so that there is a buildup of less desirable products. A frequent case is the lack of processed fruit products due to a lack of calculation from the purchase of raw materials. Based on these problems, a system for determining the pattern of relationships between processed fruit products was built as new knowledge to help the factory in the supply of processed fruit products. The method used in the system to be built is using the Association Rule Mining method with a priori algorithm. Based on research results, this system can display inventory recommendations based on analysis using association rule mining.
References
E. R. Yuliastuti, R. Dwiastuti, and N. Hanani, 2014, "Analisis Dinamis Permintaan Buah-Buahan Di Indonesia: Pendekatan Model Error Correction-Linear Approximation Almost Ideal Demand System", AGRISE, vol. XIV, pp. 239–256,.
Y. Sarvina, 2019 ,"Dampak Perubahan Iklim Dan Strategi Adaptasi Tanaman Buah Dan Sayuran Di Daerah Tropis / Climate Change Impact and Adaptation Srategy for Vegetable and Fruit Crops in the Tropic Region," J. Penelit. dan Pengemb. Pertan., vol. 38, no. 2, p. 65.
S. S. Antarlina, "Identifikasi Sifat Fisik dan Kimia Buah-buahan Lokal Kalimantan", 2016, Bul. Plasma Nutfah, vol. 15, no. 2, p. 80.
D. P. Larasati, M. Nasrun, S. Si, and U. A. Ahmad, "Analisis Dan Implementasi Algoritma Fp-Growth Pada Aplikasi Smart Untuk Menentukan Market Basket Analysis Pada Usaha Retail ( Studi Kasus?: Pt . X ) Analysis And Implementation Of Fp-Growth Algorithm In Smart Application To Determine Market Basket Analysis", 2015, ISSN 2355-9365 e-Proceeding Eng., vol. 2, no. 1, pp. 749–755.
W. A. Triyanto, "Association Rule Mining Untuk Penentuan Rekomendasi", 2014 vol. 5, no. 2, pp. 121–126.
S. J. Tamba and E. Bu, "Implementasi Algoritma Apriori Pada Sistem Persediaan Buah-Buahan ( Studi Kasus?: Lotte Mart Wholesale Medan )", 2019, J. Pelita Inform., vol. 18, pp. 616–621.
I. Sommerville, Software Engineering Ninth Edition, 2011, no. 12. Pearson.
N. Manengkey, "Analisis Sistem Pengendalian Intern Persediaan Barang Dagang Dan Penerapan Akuntansi Pada Pt. Cahaya Mitra Alkes", 2014, J. Ris. Ekon. Manajemen, Bisnis dan Akunt., vol. 2, no. 3, pp. 13–21.
T. A. Kumbhare, "An Overview of Association Rule Mining Algorithms", 2014, vol. 5, no. 1, pp. 927–930.
G. Suryo Putro, "Analisis Faktor-Faktor Yang Mempengaruhi Konsumen Dalam Pengambilan Keputusan Pembelian Produk Mie Instan Merek Sedaap," pp. 369–385.
M. Chen, A. Chiu, and H. Chang, "Mining changes in customer behavior in retail marketing", 2005, Expert Syst. with Appl. 28 773–781, vol. 28, pp. 773–781.
B. S. Ahmed, M. Larbi, B. Maati, and B. Al Mohajir, "Improve Intelligence of E-CRM Applications and Customer Behavior in Online Shopping", 2015, vol. 6, no. March, pp. 1–10.
K. Shaukat, S. Zaheer, and I. Nawaz, "Association Rule Mining?: An Application Perspective", 2015 vol. 2015, no. 1, pp. 29–38.
T. Karthikeyan and N. Ravikumar, "A Survey on Association Rule", 2014, Int. J. Adv. Res. Comput. Commun. Eng., vol. 3, no. 4, pp. 5223–5227.
Erwin, "Analisis Market Basket Dengan Algoritma Apriori dan FP-Growth", 2009 Generic, vol. 4, pp. 26–30.
Y. H. Chrisnanto and A. Kanianingsih, "Identifikasi Pola Kemampuan Akademik Menggunakan Teknik Association Rules", 2017, Semin. Nas. Teknol. Inf. dan Komun. 2017, vol. 66, pp. 375–380.
S. Rao and P. Gupta, "Implementing Improved Algorithm Over APRIORI Data Mining Association Rule Algorithm", 2012, vol. 8491, pp. 489–493.
M. Al-maolegi and B. Arkok, "An Improved Apriori Algorithm For Association Rules", 2014, vol. 3, no. 1, pp. 21–29.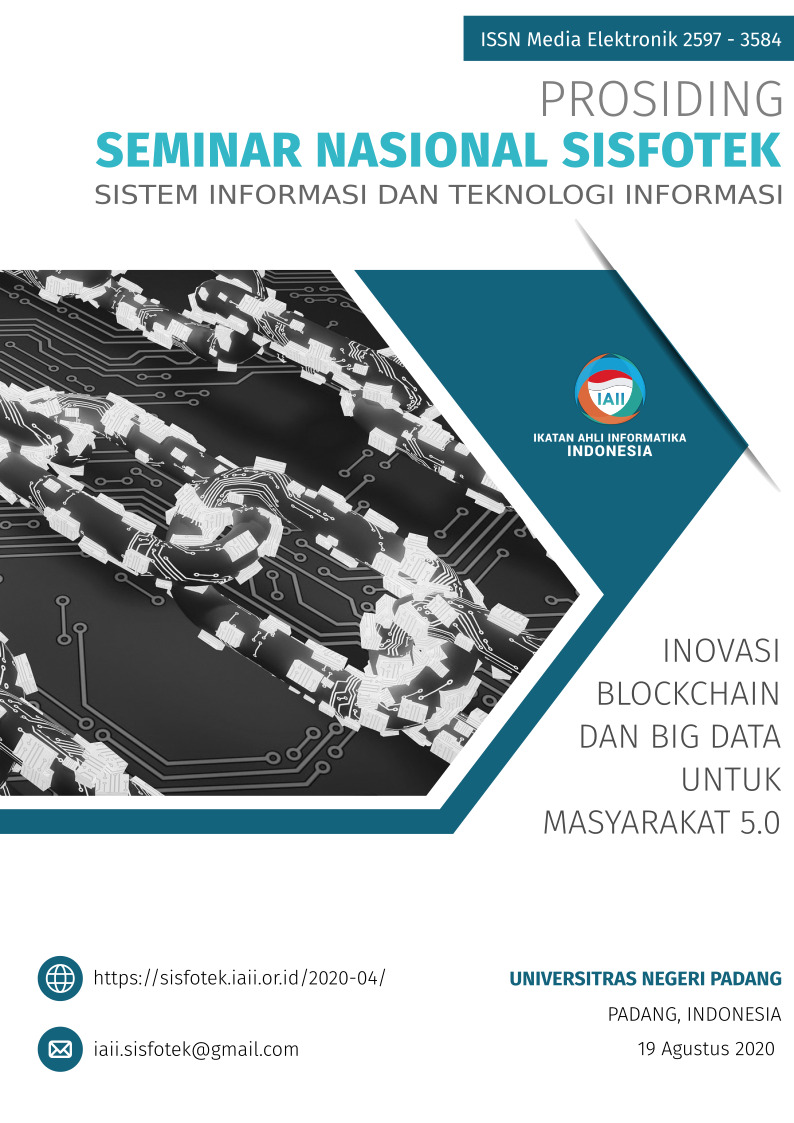 Downloads
How to Cite
Siska Vadilah, Yulison Herry Chrisnanto, & Puspita Nurul Sabrina. (2020). Sistem Pengelolaan Persediaan Berdasarkan Pola Hubungan Antar Produk Buah Olahan Menggunakan Association Rule Mining. Prosiding SISFOTEK, 4(1), 147 - 150. Retrieved from http://seminar.iaii.or.id/index.php/SISFOTEK/article/view/203
Section
3. Data dan Diseminasi Informasi
License
Copyright (c) 2020 Prosiding SISFOTEK
This work is licensed under a Creative Commons Attribution 4.0 International License.