Rancang Bangun Sistem Manajemen Jaringan dan Suhu untuk Data Center menggunakan Raspberry Pi dan Zabbix
Keywords:
Data Center, Raspberry Pi, Suhu, Zabbix
Abstract
Companies engaged in telecommunications usually have main services as Internet Service Providers. Its customers are spread outside the island. To maintain and monitor the availability of its services, a centralized monitoring system is needed that can be used to monitor in real time. In this study a system was designed to monitor the overall work of the device and also monitor the temperature where the device is located. To save the cost of making this system, the device uses Raspberry Pi which is quite cheap. An administrator can monitor devices that exist in the data center via the online system. When there is a device failure, the system will immediately report this to the administrator via email.
References
I. D. P. G. W. Putra and M. D. W. Aristana, "Perancangan Desain Ruangan Data Center Menggunakan Standar Tia-942," J. Resist. (Rekayasa Sist. Komputer), vol. 2, no. 1, pp. 1–5, 2019, doi: 10.31598/jurnalresistor.v2i1.370.
A. Sayuti, "perancangan dan sistem monitoring suhu dan kelembapan," Peranc. Sist. Monit. suhu Berbas. IoT, 2015.
M. Dayarathna, Y. Wen, and R. Fan, "Data center energy consumption modeling: A survey," IEEE Commun. Surv. Tutorials, vol. 18, no. 1, pp. 732–794, 2016, doi: 10.1109/COMST.2015.2481183.
A. Shokhin, "Network monitoring with Zabbix," Thesis, no. May, 2015.
A. Talebzadeh, A. Patnaik, X. Gao, M. Moradian, D. E. Swenson, and D. Pommerenke, "Dependence of ESD charge voltage on humidity in data centers: Part II - Data analysis," ASHRAE Conf., vol. 121, no. March 2016, pp. 37–48, 2015.
D. E. Kurniawan, M. Iqbal, J. Friadi, R. I. Borman, and R. Rinaldi, "Smart Monitoring Temperature and Humidity of the Room Server Using Raspberry Pi and Whatsapp Notifications," J. Phys. Conf. Ser., vol. 1351, p. 012006, 2019, doi: 10.1088/1742-6596/1351/1/012006.
P. Periyaldi, A. Bramanto, and A. Wajiansyah, "Implementasi Sistem Monitoring Suhu Ruang Server Satnetcom Berbasis Internet Of Things (Iot) Menggunakan Protokol Komunikasi Message Queue Telemetry Transport (Mqtt)," JTT (Jurnal Teknol. Terpadu), vol. 6, no. 1, p. 23, 2018, doi: 10.32487/jtt.v6i1.435.
A. G. P. Anggoro, "Monitoring server room temperature remotely in real time using raspberry pi and firebase," 2018.
R. Pi, T. Eletkro, F. Teknik, and U. M. Malang, "Monitoring Sistem Kontrol Suhu Pada Ruang Server Berbasis," vol. 1, no. 2, pp. 162–171, 2019.
R. Novrianda Dasmen, "Implementasi Raspberry Pi 3 Sebagai Wireless Access Point Pada STIPER Sriwigama Palembang," J. Inform. J. Pengemb. IT, vol. 3, no. 3, pp. 387–393, 2018, doi: 10.30591/jpit.v3i3.943.
G. Kutukian and M. Husain, "Raspberry Pi 3 Home Network Monitoring Tool," 2016.
D. Wijonarko, "Zabbix Network Monitoring Sebagai Perangkat Monitoring Jaringan Di Skpd Kota Malang," pp. 27–38.
Frondy, "Pengembangan Sistem Monitoring Aktivitas Jaringan pada Mikrokomputer," Fak. Ilmu Komputer, Univ. Brawijaya, vol. 2, no. 2, pp. 768–775, 2017.
S. Taftazanie, A. B. Prasetijo, and E. D. Widianto, "Aplikasi Pemantau Perangkat Jaringan Berbasis Web Menggunakan Protokol SNMP dan Notifikasi SMS," J. Teknol. dan Sist. Komput., vol. 5, no. 2, p. 62, 2017, doi: 10.14710/jtsiskom.5.2.2017.62-69.
N. Karten, "How to Establish Service Level Agreements," 2003.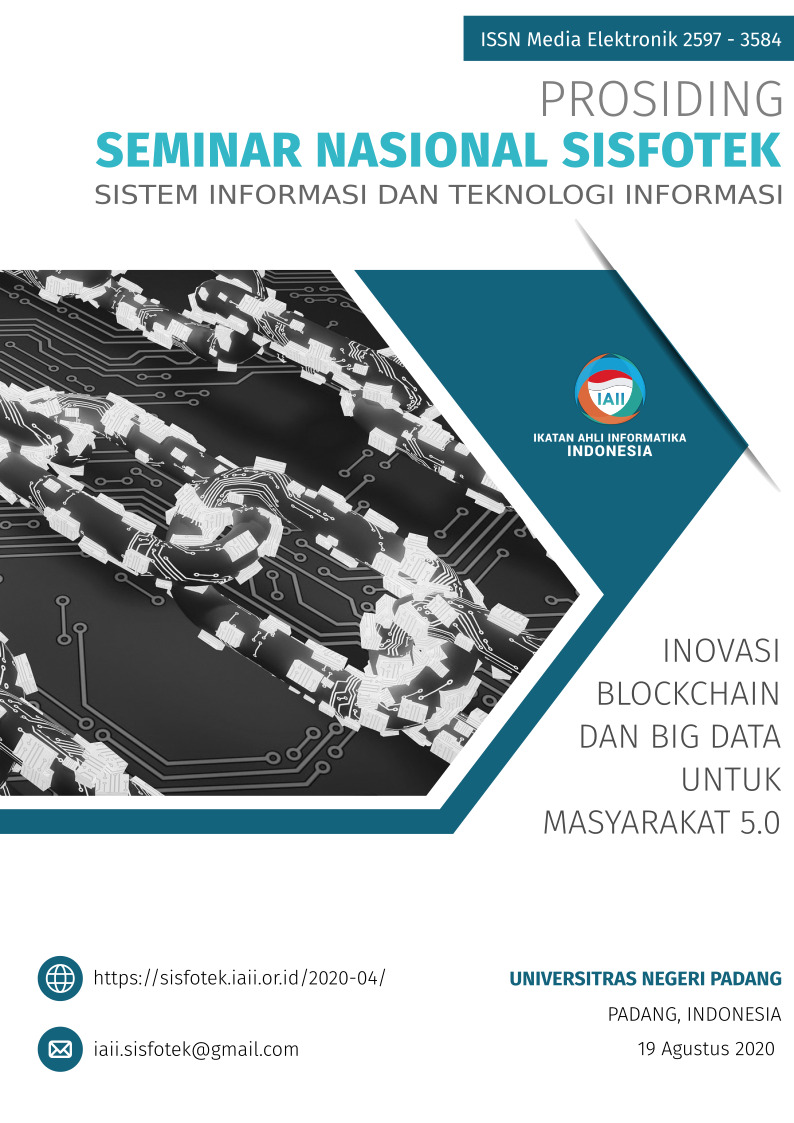 Downloads
How to Cite
Musakkarul Mu'minim Lambacing, Ririn Apriliani, & Dolly Virgian Shaka Yudha Sakti. (2020). Rancang Bangun Sistem Manajemen Jaringan dan Suhu untuk Data Center menggunakan Raspberry Pi dan Zabbix. Prosiding SISFOTEK, 4(1), 151 - 155. Retrieved from http://seminar.iaii.or.id/index.php/SISFOTEK/article/view/204
Section
2. Rekayasa Sistem Informasi
License
Copyright (c) 2020 Prosiding SISFOTEK
This work is licensed under a Creative Commons Attribution 4.0 International License.