Sistem Penentuan Kenaikan Pangkat Prajurit Menggunakan Metode CPI Pada Kodim 0619 Purwakarta
Keywords:
Determination System, Promotion of Soldiers, Composite Performance Index
Abstract
This study designed the application of the system for determining the rank of soldiers using the composite performance index (CPI) method at Kodim 0619 Purwakarta to determine whether or not a soldier passes the various stages of the test, where the values of each of these stages have their own requirements to pass the value of each stage of the test . The test is the same. Samapta is to measure the level of fitness of each soldier. Promotion of soldiers in the Kodim 0619 Purwakarta, namely enlisted and non-commissioned officers. The system for determining the rank of soldiers implements computer-based technology using the Composite Performance Index (CPI) method which was built using the PHP programming language and MySQL DBMS. This system has a function to determine the soldiers who passed or did not pass and determine the ranking of soldiers who passed to get a promotion.
References
R. A. Suherdi, R. Taufiq, A. A. Permana, P. S. Informatika, F. Teknik, and U. M. Tangerang, "Penerapan metode ahp dalam sistem pendukung keputusan kenaikan pangkat pegawai di badan kepegawaian dan pengembagan sumber daya manusia kota tangerang," Vol.2, Pp. 522–528, 2018.
E. Rennynfgmailcom, "Sistem Penunjang Keputusan Menggunakan Metode Composite Performance Index Untuk Pemilihan Pemenang Tender Pengadaan Barang/Jasa"
K. A. Prasetiya, W. Witanti, R. Ilyas, P. Militer, and A. Jenderal, "Perancangan Sistem Pendukung Keputusan Penempatan Kecabangan TNI AD Menggunakan Metode Analytic Hierarchy Process dan Simple Additive Weighting," no. September, vol.1, Pp. 21–26, 2017.
N. S. Tanjung, P. D. Adelina, M. K. Siahaan, E. Purba, and J. Afriany, "Sistem Pendukung Keputusan Pemilihan Guru Teladan Dengan Menggunakan Metode Composite Perfomance Index (CPI )," vol. 5, no. 1, pp. 13–18, 2018.
R. Rahim, Mesran, A. Putera, U. Siahaan, and S. Aryza, "Composite performance index for student admission," Int. J. Res. Sci. Eng., vol. 3, no. 3, pp. 68–74, 2017.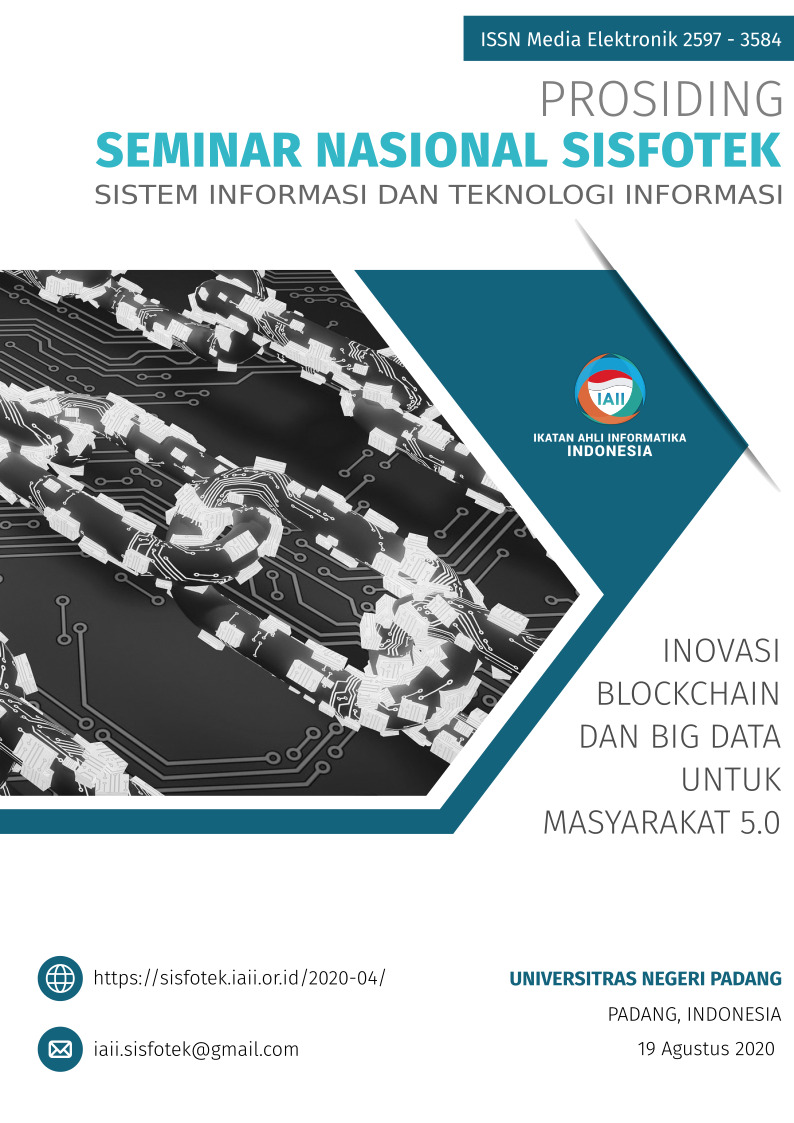 Downloads
How to Cite
Sevty Nourmantana, Wina Witanti, & Asep Id Hadiana. (2020). Sistem Penentuan Kenaikan Pangkat Prajurit Menggunakan Metode CPI Pada Kodim 0619 Purwakarta. Prosiding SISFOTEK, 4(1), 184 - 188. Retrieved from http://seminar.iaii.or.id/index.php/SISFOTEK/article/view/210
Section
2. Rekayasa Sistem Informasi
License
Copyright (c) 2020 Prosiding SISFOTEK
This work is licensed under a Creative Commons Attribution 4.0 International License.