Sistem Prediksi Mutu Air Di Perusahaan Daerah Air Minum Tirta Raharja Menggunakan K – Nearest Neighbors (K – NN)
Keywords:
Information; PDAM Tirta Raharja; Water; Water Quality; K – Nearest Neighbors Algoritm;
Abstract
PDAM (Perusahaan Daerah Air Minum) Tirta Raharja is the only Regional Business Entity (BUMD) that has the task of providing clean water services to the people of Cimahi City. Clean water is the main requirement that must be consumed by the community and managed in the smooth running of community activities. The development of the city of Cimahi is currently quite fast, with plans to build smart cities, causing the need for clean air as needed. K - Nearest Neighbor (KNN) is a classification algorithm that considers several supporting parameters to carry out a classification process that results in ease of calculation and power. KNN can be considered as one of the most famous non-parametric models. In the research and implementation process of data mining in the regulation of water quality feasibility in PDAM Tirta Raharja using K - the nearest neighbor can be denied as the K - the nearest neighbor implemented in the process of testing the drinking water feasibility in PDAM Tirta Raharja, can be used 93% to be used with the Eligible label Drunk, and 98% for accuracy testing with the label Not Eligible to drink with a K value of 14 where the K value is the most ideal amount that must go through K - Fold Validation Validation of a total of 1,818 data.
References
N. N. P. Galih. Surono, "Journal of technology information," Http://Jurnal.Kampuswiduri.Ac.Id/, vol. 5, no. 1, pp. 25–30, 2020.
Okfalisa, I. Gazalba, Mustakim, and N. G. I. Reza, "Comparative analysis of k-nearest neighbor and modified k-nearest neighbor algorithm for data classification," Proc. - 2017 2nd Int. Conf. Inf. Technol. Inf. Syst. Electr. Eng. ICITISEE 2017, vol. 2018-Janua, pp. 294–298, 2018.
P. P. D. K. Singh, "Review on Data Mining Techniques for Prediction of Water Quality," Int. J. Adv. Res. Comput. Sci., vol. 8, no. 5, pp. 396–401, 2017.
D. Dezfooli, S.-M. Hosseini-Moghari, K. Ebrahimi, and S. Araghinejad, "Classification of water quality status based on minimum quality parameters: application of machine learning techniques," Model. Earth Syst. Environ., vol. 4, no. 1, pp. 311–324, 2018.
F. Tempola, M. Muhammad, and A. Khairan, "Perbandingan Klasifikasi Antara Knn Dan Naive Bayes Pada Penentuan Status Gunung Berapi Dengan K-Fold Cross Validation Comparison of Classification Between Knn and Naive Bayes At the Determination of the Volcanic Status With K-Fold Cross," J. Teknol. Inf. dan Ilmu Komput., vol. 5, no. 5, pp. 577–584, 2018.
T. Praningki and I. Budi, "Sistem Prediksi Penyakit Kanker Serviks Menggunakan CART, Naive Bayes, dan k-NN," Creat. Inf. Technol. J., vol. 4, no. 2, p. 83, 2018.
G. O. Mustakim, "Algoritma K-Nearest Neighbor Classification," J. Sains, Teknol. dan Ind., vol. 13, no. 2, pp. 195–202, 2016.
A. Rohman, "Model Algoritma K-Nearest Neighbor (K-Nn) Untuk Prediksi Kelulusan Mahasiswa," Neo Tek., vol. 1, no. 1, 2015.
M. A. Rahman, N. Hidayat, and A. Afif Supianto, "Komparasi Metode Data Mining K-Nearest Neighbor Dengan Naïve Bayes Untuk Klasifikasi Kualitas Air Bersih (Studi Kasus PDAM Tirta Kencana Kabupaten Jombang)," J. Pengemb. Teknol. Inf. dan Ilmu Komput. Vol. 2, No. 12, Desember 2018, hlm. 6346-6353 e-ISSN, vol. 2, no. 12, pp. 925–928, 2018.
A. Noviriandini and P. Handayani, "Prediksi Penyakit Liver Dengan Menggunakan Metode Naïve Bayes Dan K- Nearest Neighbour ( KNN )," no. November, 2019.
A. Suárez Sánchez, F. J. Iglesias-Rodríguez, P. Riesgo Fernández, and F. J. de Cos Juez, "Applying the K-nearest neighbor technique to the classification of workers according to their risk of suffering musculoskeletal disorders," Int. J. Ind. Ergon., vol. 52, pp. 92–99, 2014.
G. Abdillah et al., "Penerapan Data Mining Pemakaian Air Pelanggan Untuk Menentukan Klasifikasi Potensi Pemakaian Air Pelanggan Baru Di Pdam Tirta Raharja Menggunakan Algoritma K-Means," Sentika 2016, vol. 2016, no. Sentika, pp. 18–19, 2016.
A. P. Windarto, "Penerapan Datamining Pada Ekspor Buah-Buahan Menurut Negara Tujuan Menggunakan K-Means Clustering Method," Techno.Com, vol. 16, no. 4, pp. 348–357, 2017.
M. Irfan, W. Uriawan, O. T. Kurahman, M. A. Ramdhani, and I. A. Dahlia, "Comparison of Naive Bayes and K-Nearest Neighbor methods to predict divorce issues," IOP Conf. Ser. Mater. Sci. Eng., vol. 434, no. 1, 2018.
K. Ashwini, J. J. Vedha, and M. D. Priya, "Intelligent model for predicting water quality," Int. J. Adv. Res. Ideas Innov. Technol. ISSN, vol. 5, no. 2, pp. 70–75, 2019.
M. Hardt, E. Price, and N. Srebro, "Equality of opportunity in supervised learning," Adv. Neural Inf. Process. Syst., no. Nips, pp. 3323–3331, 2016.
T. Denœux, O. Kanjanatarakul, and S. Sriboonchitta, "A new evidential K-nearest neighbor rule based on contextual discounting with partially supervised learning," Int. J. Approx. Reason., vol. 113, pp. 287–302, 2019.
P. C. Sen, M. Hajra, and M. Ghosh, Supervised Classification Algorithms in Machine Learning: A Survey and Review, vol. 937. 2020.
J. Sayyad Amin, A. Bahadori, B. Hosseini Nia, S. Rafiee, and N. Kheilnezhad, "Prediction of hydrate equilibrium conditions using k-nearest neighbor algorithm to CO2capture," Pet. Sci. Technol., vol. 35, no. 11, pp. 1070–1077, 2017.
H. A. Roysid, A. Maulana, and U. Pujianto, "Can K-Nearest Neighbor Method Be Used To Predict Success in Indonesia State University Student Selection," Kursor, vol. 9, no. 4, pp. 137–144, 2019.
S. W. Ibrahim, R. Djemal, A. Alsuwailem, and S. Gannouni, "Electroencephalography (EEG)-based epileptic seizure prediction using entropy and K-nearest neighbor (KNN)," Commun. Sci. Technol., vol. 2, no. 1, pp. 6–10, 2017.
D. M. Atallah, M. Badawy, A. El-Sayed, and M. A. Ghoneim, "Predicting kidney transplantation outcome based on hybrid feature selection and KNN classifier," Multimed. Tools Appl., vol. 78, no. 14, pp. 20383–20407, 2019.
S. P. Power, O. Prediction, and E. Model, "Short-Term Photovoltaic Power Output Prediction Based on k -Fold Cross-Validation and an Ensemble Model," no. 1, 2019.
K. J. Grimm, G. L. Mazza, P. Davoudzadeh, K. J. Grimm, G. L. Mazza, and P. Davoudzadeh, "Model Selection in Finite Mixture Models?: A k-Fold Cross-Validation Approach Model Selection in Finite Mixture Models?: A k -Fold Cross-Validation Approach," Struct. Equ. Model. A Multidiscip. J., vol. 00, no. 00, pp. 1–11, 2016.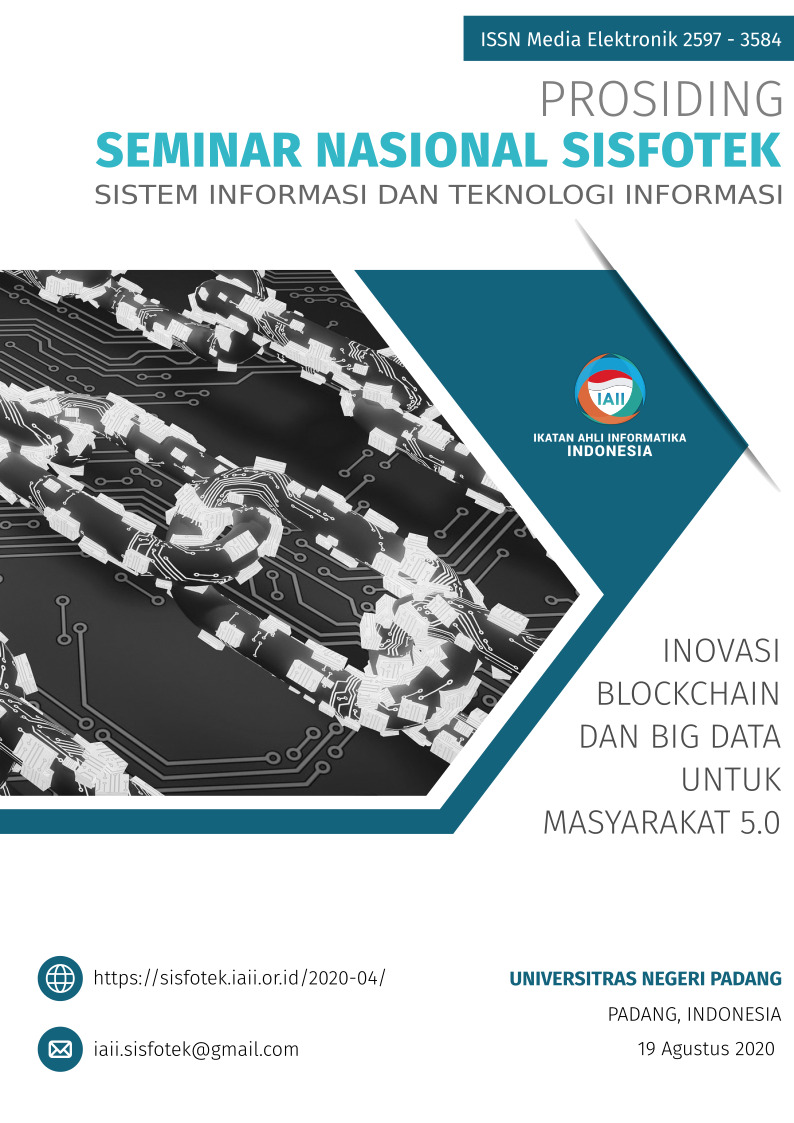 Downloads
How to Cite
Rahandanu Rachmat, Yulison Herry Chrisnanto, & Fajri Rakhmat Umbara. (2020). Sistem Prediksi Mutu Air Di Perusahaan Daerah Air Minum Tirta Raharja Menggunakan K – Nearest Neighbors (K – NN). Prosiding SISFOTEK, 4(1), 189 - 193. Retrieved from http://seminar.iaii.or.id/index.php/SISFOTEK/article/view/211
Section
2. Rekayasa Sistem Informasi
License
Copyright (c) 2020 Prosiding SISFOTEK
This work is licensed under a Creative Commons Attribution 4.0 International License.