Sistem Penunjang Keputusan Pemilihan Supplier pada Apotek dengan Metode AHP dan SAW (Studi Kasus Apotek XYZ)
Keywords:
Sistem Pendukung Keputusan, Analytical Hierarchy Process (AHP), Simple Additive Weighting (SAW), Pemilihan Supplier.
Abstract
Apotek adalah perusahaan yang bergerak di bidang farmasi. Pada apotek, pemilihan supplier obat  sangatlah penting, terutama untuk obat-obatan yang akan mereka jual ke pelanggan untuk menyembuhkan penyakit mereka. Apotek cenderung memiliki banyak supplier obat. Hal ini sering membuat apotek mendapat masalah dalam pemilihan supplier. Kesalahan dalam pemilihan supplier akan berdampak pada kualitas obat dan biaya yang dikeluarkan untuk membeli obat tersebut dari supplier. Oleh karena itu, mereka membutuhkan sebuah sistem penunjang keputusan yang dapat membantu memilih supplier terbaik secara akurat berdasarkan kriteria yang sudah ditentukan. Penentuan pemilihan supplier ini akan menggunakan metode Analytical Hierarchy Process (AHP) sebagai penentu bobot dari masing-masing kriteria dan Simple Additive Weighting (SAW) untuk menentukan prioritas atau ranking dari setiap alternatif. Sistem ini akan mempermudah decision maker dalam memilih supplier terbaik. Sistem ini akan menggunakan MySQL sebagai database dan Microsoft Visual Studio 2008 sebagai tool.
References
[1] Kusumadewi S. Fuzzy Multi-Attribut Decision Making (Fuzzy MADM). Yogyakarta: Graha Ilmu, 2006.
[2] Miranda., dan Tunggal Amin Widjata. Manajemen Logistik dan Supply Chain Management. Jakarta : Harvarindo, 2005.
[3] Prabantini, Dwi. Cracking Creativity The Secret of Creative Genius Edisi 1. Yogyakarta : Andi, 2010.
[4] Pramudyo, Cahyono Sigit., dan Purnomo, Dian Eko Hari. 2012. "Perancangan Sistem Penunjang Keputusan Untuk Pemilihan Pemasok Nata De Coco Dengan Metode Simple Additive Weighting (SAW)". Jurnal Ilmiah Teknik Industri. ISSN : 1412-6869. No 1, Vol 11, hal 81-90.
[5] Saaty, T. Lorie. The Analytical Hierarchy Process. USA : Pittsburg University, 1988.
[6] Shelly, Gary B., dan Harry J. Rosenblatt. System Analysis And Design. 9th ed. USA : Course Technology, 2012.
[7] Sutabri, Tata. Analisis Sistem Informasi. Yogyakarta : Andi, 2012.
[8] Turban, Effraim Jay E. Aronson., Ting Peng Liang. Decision Support System and Intelligent System. 9th ed, 2010.
[9] Wardah, Siti. 2013. "Model Pemilihan Pemasok Bahan Baku Kelapa Parut Kering Dengan Metode AHP (Studi Kasus PT. Kokonako Indonesia)". Jurnal Optimasi Sistem Industri. ISSN 2088-4842. No 2, Vol 12, Hal 352-357.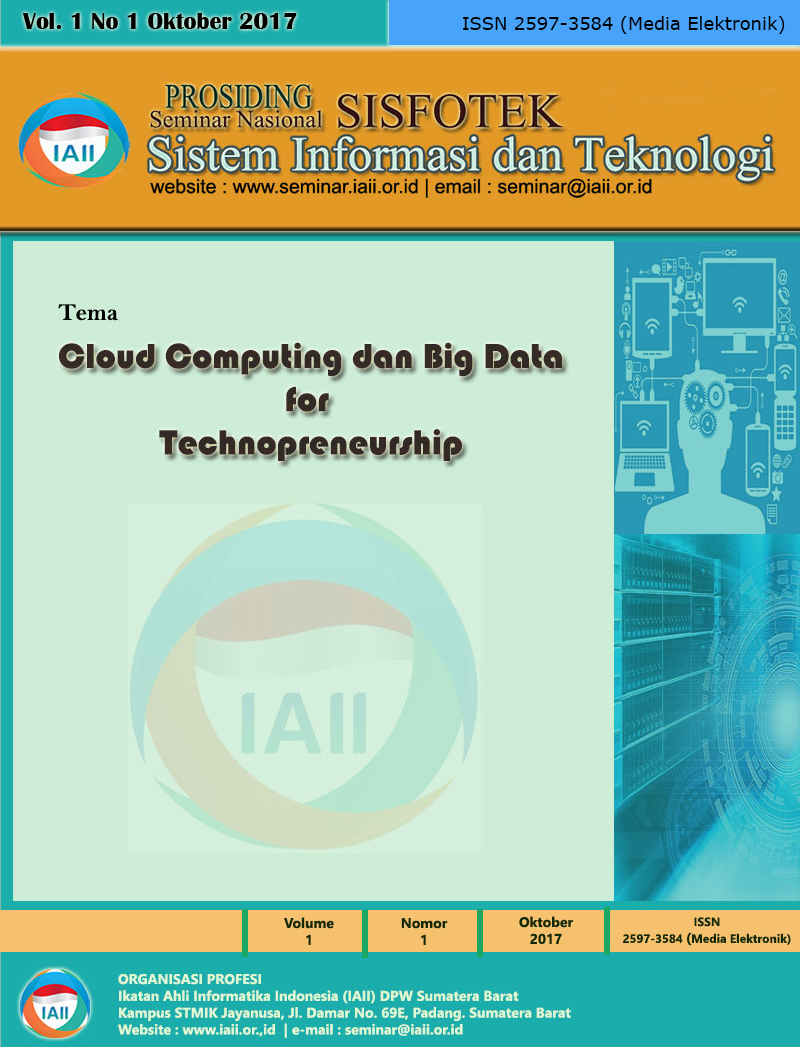 Downloads
How to Cite
Pradipta, A. Y., & Diana, A. (2017). Sistem Penunjang Keputusan Pemilihan Supplier pada Apotek dengan Metode AHP dan SAW (Studi Kasus Apotek XYZ). Prosiding SISFOTEK, 1(1), 107 - 114. Retrieved from http://seminar.iaii.or.id/index.php/SISFOTEK/article/view/23
Section
2. Rekayasa Sistem Informasi
License
http://creativecommons.org/licenses/by/4.0