Desain Game Edukasi Bertema Penerapan Akhlakul Karimah Menggunakan Framework Mechanics Dynamics Aesthetics
Keywords:
Good Character, Educational Game, MDA.
Abstract
Good character is a commendable attitude in accordance with Islamic teachings. Someone who has a moral character will always be liked by fellow human beings. A child does not understand whether what he is doing is dangerous or not, beneficial or detrimental, as well as right and wrong. The way to develop morality in children is by teaching them noble character. But in fact the environments that exist at this time more are considered as the cause of the occurrence of moral dedication, one of which is the rise of gadgets that contain game elements that are less educational. Based on these problems, it is necessary to present an educational game that is expected to be one of the ways to deliver the material so that children can participate in the learning of morality with good fun. In designing and compiling elements in a game one of them uses a framework method that has a sub method called Mechanics Dynamics Aesthetics (MDA). The MDA Framework was developed as a framework for understanding games through the perspective of users and developers. Based on the evaluation results of the game test through a questionnaire, where the aspects tested consist of the background of the respondent, the interaction of the respondent with the User Interface of the game, and the aesthetic or emotional challenge that must be felt when playing a good character game shows that the respondent feels happy and gets new knowledge about the character good and bad in the game.
References
D.I. Taman and K. I. Al, "Dalam Pengembangan Akhakul Karimah Purwokerto Kecamatan Baturraden Skripsi Fakutas Tarbiyah Dan Ilmu Keguruan Institut Agama Islam Negeri ( IAIN ) Purwokerto," 2015.
R. Ibrahim and A. Jaafar, "Educational games (EG) design framework: Combination of game design, pedagogy, and content modeling," Proceedings of the 2009 International Conference on Electrical Engineering and Informatics, ICEEI 2009, vol. 1, no. August, pp. 293–298, 2009.
H. F. Dwiyani, F. I. Komputer, and U. D. Nuswantoro, "Game Edukasi Tentang Agama di Indonesia Untuk PAUD," pp. 1–8, 2015
A. Vega, "Game edukasi sebagai media pembelajaran pendidikan anak usia dini," Inform, vol. I, no. 1, pp. 1–8, 2016.
S. Priyanto, P. Pribadi, and A. Hamdi, "Game Edukasi 'Matching Three' Untuk Anak Usia Dini," Game Edukasi "Matching Three" Untuk Anak Usia Dini, vol. 7, no. 2, p. 32, 2014.
R. Maulana, "Game Edukasi sebagai Media Pembelajaran Budaya Tentang Pakaian Adat di Aceh menggunakan Multimedia Development Life Cycle ( MDLC )," J. TIKA, vol. 1, no. 3, pp. 40–47, 2016.
A. Z. Rahman, T. N. Hidayat, and I. Yanuttama, "Media Pembelajaran Ipa Kelas 3 Sekolah Dasar Menggunakan Teknologi Augmented Reality Berbasis Android," Seminar Nasional Teknologi Informasi dan Multimedia, vol. 5, no. 1, pp. 4-6–43, 2017.
W. Trooster, "The Use of Virtual Worlds and Serious Gaming in Education," in Simulations, Serious Games and Their Applications, 2013.
Pschyrembel Redaktion, "The Gamification Of Education," Developments in Business Simulation and Experiential Learning, vol. 40, pp. 196–200, 2013.
S. Grey et al., "Using Formal Game Design Methods to Embed Learning Outcomes into Game Mechanics and Avoid Emergent Behaviour," International Journal of Game-Based Learning, vol. 7, no. 3, pp. 63–73, 2017.
M. Rizky, P. Putra, E. Muh, A. Jonemaro, and I. Arwani, "Penerapan Mechanics Dynamics Aesthetics Framework pada Game Pengenalan Wisata Kota Malang," vol. 2, no. 5, pp. 2086–2091, 2018
S. Granberg and P. Hulterstrom, "Ecological Psychology: A Framework for Wargame Design," Simulation and Gaming in the Network Society, vol. 9, no.1, pp. 43–48, 2016.
R. Kurniawan, A. Mahtarami, and R. Rakhmawati, "GEMPA?: Game Edukasi sebagai Media Sosialisasi Mitigasi Bencana Gempa Bumi Bagi Anak Autis," Jurnal Nasional Teknik Elektro dan Teknologi Informasi (JNTETI) JNTETI, Vol. 6, No. 2, Mei, 2017, vol. 6, no. 2, pp. 174–183, 2017
B. Kim, "Game Mechanics, Dynamics, and Aesthetics," Library technology reports, vol. 51, no. 2, pp. 17–20, 2015.
A. Prambayun, M. Suyanto, and A. Sunyoto, "Model Gamifikasi Untuk Sistem Manajemen Pembelajaran," Seminar Nasional Teknologi Informasi dan Multimedia 2016, vol. 4, no. 1, p. 2.6-1-2.6.6, 2016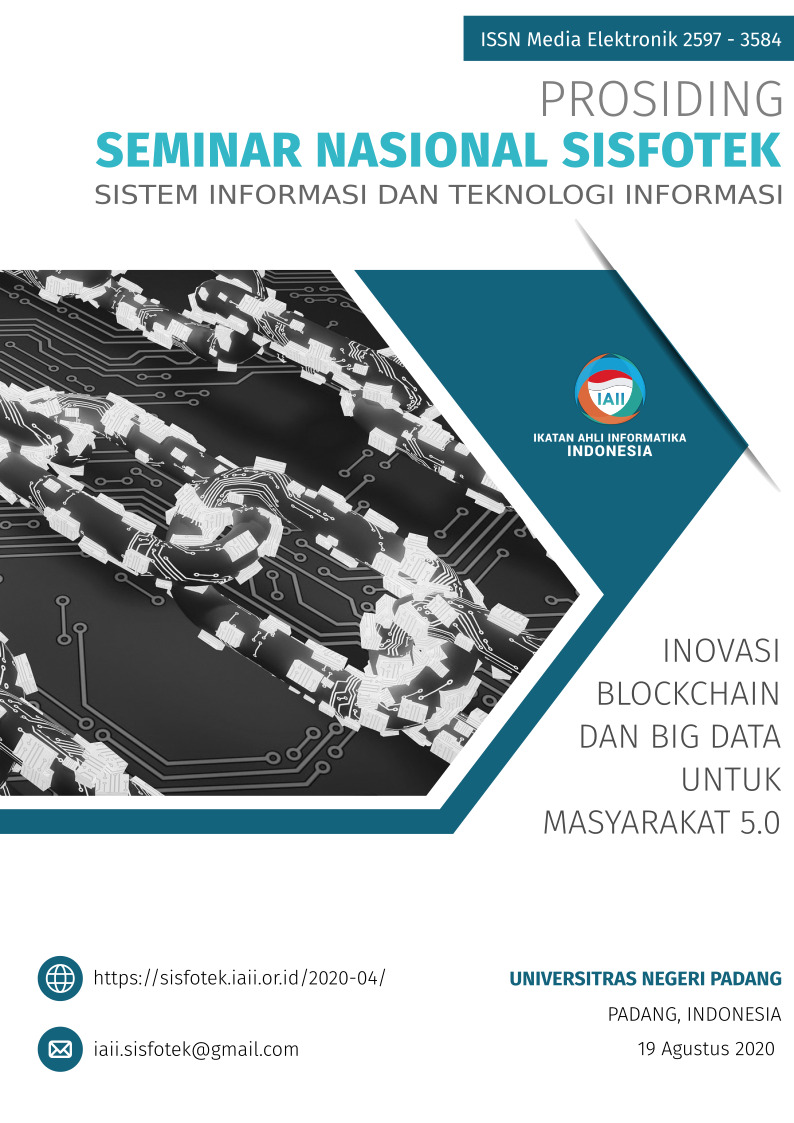 Downloads
How to Cite
Selia Aysiah, Agus Komarudin, & Rezki Yuniarti. (2020). Desain Game Edukasi Bertema Penerapan Akhlakul Karimah Menggunakan Framework Mechanics Dynamics Aesthetics. Prosiding SISFOTEK, 4(1), 281 - 286. Retrieved from http://seminar.iaii.or.id/index.php/SISFOTEK/article/view/234
Section
5. Teknologi & Komputer
License
Copyright (c) 2020 Prosiding SISFOTEK
This work is licensed under a Creative Commons Attribution 4.0 International License.