Perancangan Aplikasi Customer Relationship Management Jasa Service AC di Kota Medan pada CV. XYZ Berbasis Android
Keywords:
Customer Relationship Management, CRM, Applications Orders AC Services
Abstract
During the Covid-19 period there were a lot of decreases in AC Service Services in Medan in all companies that did not use online services. This sevice service is difficult to promote by CV. XYZ because it only sticks small banners on the side of the road so that the level of income from the AC Service is not experiencing an increase but has decreased.Customer  Relationship Management (CRM) is a business strategy that combines processes, People and Technology. CRM Helps attract sales prospects, convert them into customers, and retain existing customers, satisfied and loyal customers.
References
Andi Juansyah. 2017. Pembangunan Aplikasi Child Tracker Berbasis Assisted– Global Positioning System (a-gps) dengan platform android. Jurnal Ilmiah Komputer Dan Informatika(KOMPUTA) Edisi.1 Volume.1 ISSN:2089-9033
Dedi.2016.Implementasi E-Commerce Dengan Mengunakan metode B2C. JURNAL SISFOTEK GLOBAL ISSN : 2088 – 1762 Vol. 6 No.2.
Efmi. 2018. pemanfaatan android dalam perancangan aplikasi Kumpulan Doa.Bukittinggi : AMIK Boekittinggi
Friday hantie dan Eka Wida.2017.Rancang Bangun Sistem Informasi Permintaan Atk Berbasis Intranet. Tangerang AMIK BSI. Vol 4, No. 2.
Ginanjar. 2017. Penerapan MetodeWaterfallPada DesainSistem Informasi Geografis Industri Kabupaten Tegal.Vol.2, No.1. ISSN: 2477-5126
Janiar. 2018. Strategi Customer Relationship Management (CRM) PT AngkasaPura II (Persero). Bandung : Volume 6, No. 1, Juni 2018.
Jeperson. 2014. Konsep Sistem Informasi. Ed 1, Get 1, Yogyakarta, Deepublish, Agustus,2014.
Sandy Kosasi. 2015. Perancangan Sistem E-Commerce Untuk Memperluas Pasar Produk Oleh-Oleh Khas Pontianak. SNASTIA 2015-10-24 ISSN 1979-3960
Sulihati. 2017. Aplikasi Akademik Online Berbasis Mobile Android Pada Universitas Tama Jagakarsa. JurnalSains Dan TeknologiUtama, Volume XI, Nomor 1.
Sri Ipnuwati, 2016. Perancangan Sistem Informasi Penjualan Pada Toko Minak Singa. Jurnal Sistem Informasi dan Telematika, STMIK Pringsewu Lampung.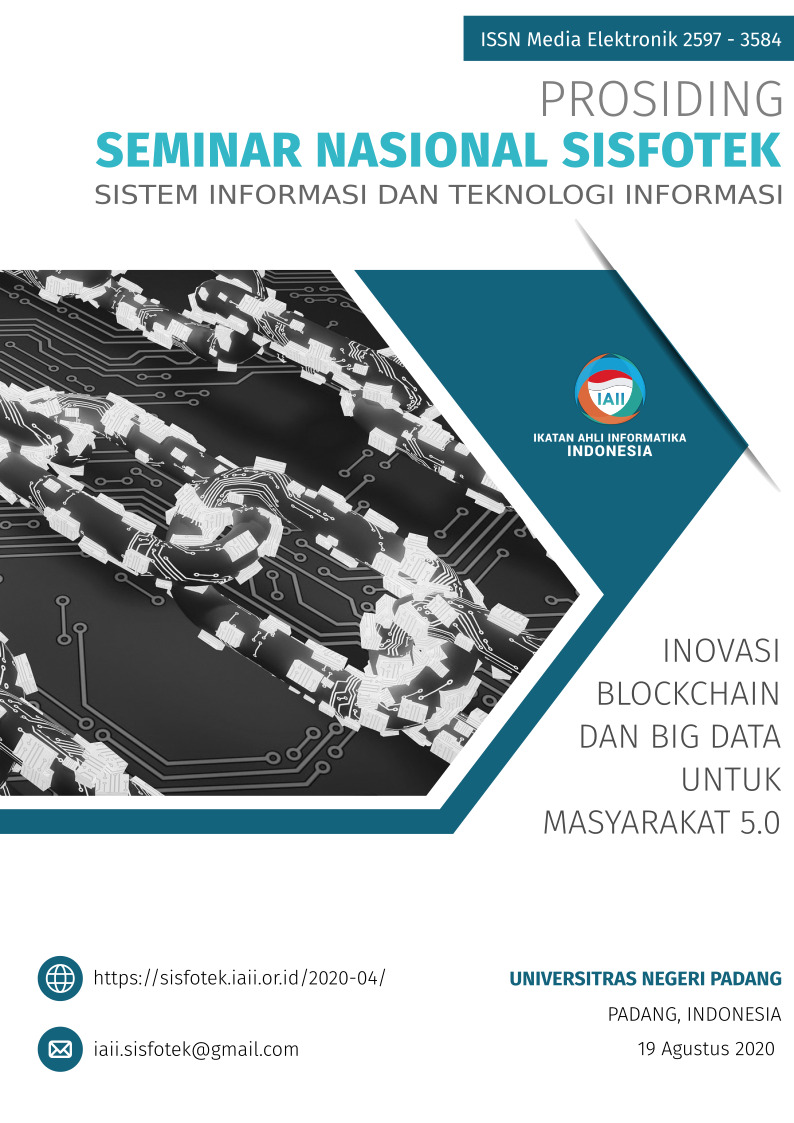 Downloads
How to Cite
Sinaga, D. C. P., Sianipar, B., & Marpaung, E. A. P. (2020). Perancangan Aplikasi Customer Relationship Management Jasa Service AC di Kota Medan pada CV. XYZ Berbasis Android. Prosiding SISFOTEK, 4(1), 348 - 353. Retrieved from http://seminar.iaii.or.id/index.php/SISFOTEK/article/view/245
Section
2. Rekayasa Sistem Informasi
License
Copyright (c) 2020 http://creativecommons.org/licenses/by/4.0/
This work is licensed under a Creative Commons Attribution 4.0 International License.