Pola Asosiasi Bahan pada Resep Masakan Daerah dengan Algoritma Apriori
Keywords:
web mining, resep, Banjar, aturan asosiasi, Apriori
Abstract
Website untuk sharing resep digunakan oleh berbagai pengguna internet untuk saling berbagi resep. Data resep tersebut bisa dimanfaatkan untuk menggali informasi mengenai berbagai makanan yang populer di masyarakat. Indonesia memiliki tradisi masakan yang kaya di dunia. Ada lebih dari 6000 pulau di Indonesia, dan hampir tiap daerah memiliki makanan khas. Salah satu ciri khas yaitu kombinasi bahan dan bumbu yang sering digunakan pada daerah tersebut. Kombinasi bahan tersebut dapat dicari dari data resep di website menggunakan teknik analisis asosiasi. Pada makalah ini dipaparkan proses pengambilan data masakan daerah Banjar dari website Cookpad, kemudian dilakukan identifikasi pola asosiasi bahan resep dengan menggunakan algoritma Apriori. Nilai minimum support yang ideal untuk data resep ini adalah 0,10, sedangkan nilai confidence yaitu 0,9. Pola asosiasi yang dihasilkan ada 9 buah, meliputi bahan-bahan ayam, kapulaga, cengkeh, jahe, kayu manis, dan pala dengan kombinasi yang berbeda.
References
[1] Zhu, Yu-Xiao, Junming Huang, Zi-Ke Zhang, Qian-Ming Zhang, Tao Zhou, dan Yong-Yeol Ahn. 2013. "Geography And Similarity Of Regional Cuisines In China". Plos ONE 8 (11): e79161. doi:10.1371/journal.pone.0079161.
[2] SBS Food,. 2014. "About Indonesian Food". Food. . Diakses 20/05/2016
[3] Wang, Liping, Qing Li, Na Li, Guozhu Dong, dan Yu Yang. 2008. "Substructure Similarity Measurement In Chinese Recipes". Proceeding Of The 17Th International Conference On World Wide Web - WWW '08. doi:10.1145/1367497.1367629.
[4] Su, Han, Man-Kwan Shan, Ting-Wei Lin, Janet Chang, dan Cheng-Te Li. 2014. "Automatic Recipe Cuisine Classification By Ingredients". Proceedings Of The 2014 ACM International Joint Conference On Pervasive And Ubiquitous Computing Adjunct Publication - Ubicomp '14 Adjunct. doi:10.1145/2638728.2641335.
[5] Rufaida, Solikhah. 2016. "Klasifikasi Resep Makanan Pendamping Air Susu Ibu (MPASI) Dengan Metode Decision Tree ID3 Berdasarkan Bahan Makanan". Skripsi, Universitas Sebelas Maret.
[6] Jain, Anupam, Rakhi N K, dan Ganesh Bagler. 2015. "Spices Form The Basis Of Food Pairing In Indian Cuisine". Arxiv.Org.
[7] Ahn, Yong-Yeol, Sebastian E. Ahnert, James P. Bagrow, dan Albert-László Barabási. 2011. "Flavor Network And The Principles Of Food Pairing". Sci. Rep. 1. doi:10.1038/srep00196.
[8] Nadamoto, A, Hanai, S., and Nanba, H., "Clustering for Similar Recipes in User-Generated Recipe Sites Based on Main Ingredients and Main Seasoning", In 2016 19th International Conference on Network-Based Information Systems (NBiS), 2016.
[9] Agrawal, R. dan Srikant, R., 1994. "Fast algorithms for mining association rules." Proc. 20th int. conf. very large data bases, VLDB (Vol. 1215, pp. 487-499).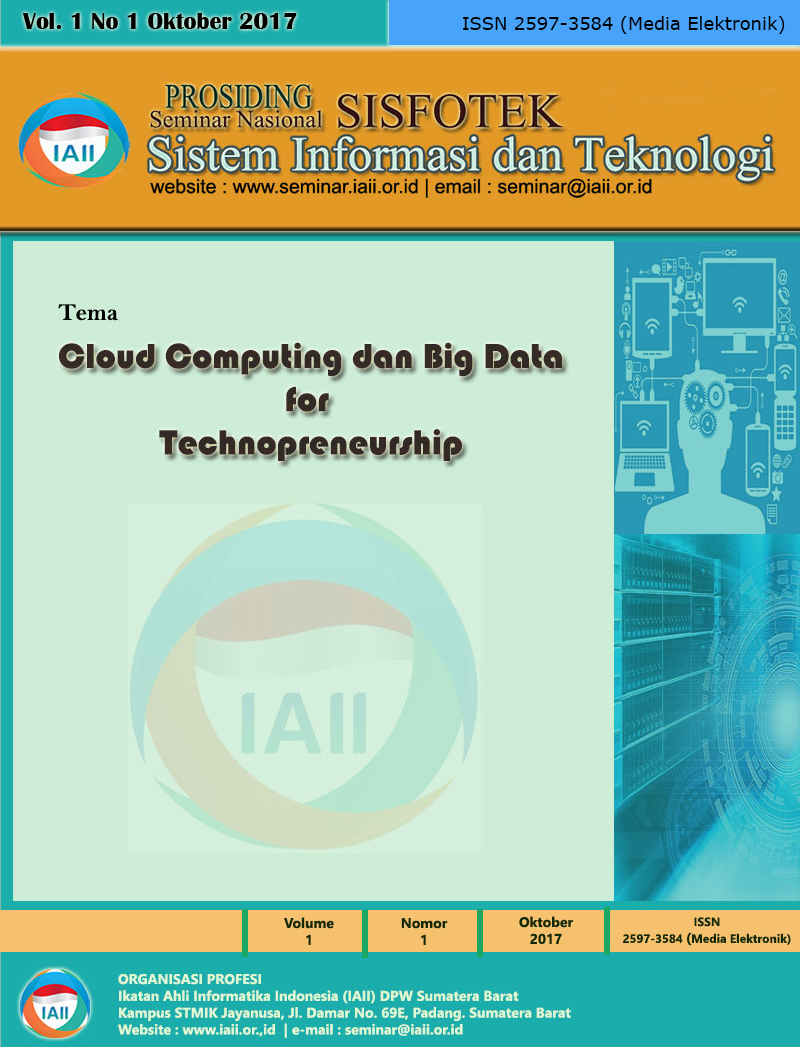 Downloads
How to Cite
Indriani, F. (2017). Pola Asosiasi Bahan pada Resep Masakan Daerah dengan Algoritma Apriori. Prosiding SISFOTEK, 1(1), 119 - 123. Retrieved from http://seminar.iaii.or.id/index.php/SISFOTEK/article/view/25
Section
3. Data dan Diseminasi Informasi
License
http://creativecommons.org/licenses/by/4.0