Ontology pada Diagnosa Penyakit Demam Berdarah
Keywords:
ontology, demam, diagnosa
Abstract
Ontology dikembangkan agar mesin mampu memproses arti atau makna dari sebuah informasi  sehingga komunikasi antara mesin dan manusia dapat terjadi. Metode ini merepresentasikan ruang lingkup pengetahuan  ke dalam bentuk yang dapat dipahami oleh manusia dan mesin. Penelitian ini  bertujuan membangun representasi pengetahuan pada kasus diagnosa penyakit demam berdarah yang pemanfaatannya dapat menjadi salah satu referensi Resource Data Framework (RDF) untuk membangun sistem pakar diagnosa berbasis semantic web. Tahapan yang dilakukan untuk membangun ontology yaitu mengolah proses diagnosa yang bersumber dari manajemen penanganan deman berdarah, merancang dan implementasi mengggunakan aplikasi Ontology Web Language (OWL) yaitu protégé. Hasil implementasi menunjukkan terdapat sejumlah 44 class dan 36 properties.
References
[1] WHO. 2012. Global strategy for dengue prevention and control 2012-2020. WHO Library Cataloguing-in-Publication Data.
[2] Alaba. t. o, Isaac. o. o, 2016, Mobile-Based Fuzzy Expert System for Diagnosing Malaria (MFES), I.J. Information Engineering and Electronic Business, 2, 14-22.
[3] Octavian. a, Ioan. d, Ioana . 2015. Expert system for medicine diagnosis using software agents. Expert Systems with Applications. Vol 42. 1825-1834.
[4] David L, N , Milton , B,. 2017. An ontology-based model for prognostics and health management of machines. Journal of Industrial Information Integration, 6, pp 33-46.
[5] Joshua, D. C, Arkalgud. R, Thant. S., 2017, An ontology of and roadmap for mHealth research. International Journal of Medical Informatics, 100, pp. 16-25.
[6] Joselaine. V, Andreia. M, Sheila. R,.2012 Ontologies application in organizational learning: A literature review, Expert Systems with Applications, 139, pp. 7555-7561.
[7] WHO. 2015. National guidelines for clinical management of fever dengue. WHO Library Cataloguing-in-Publication Data.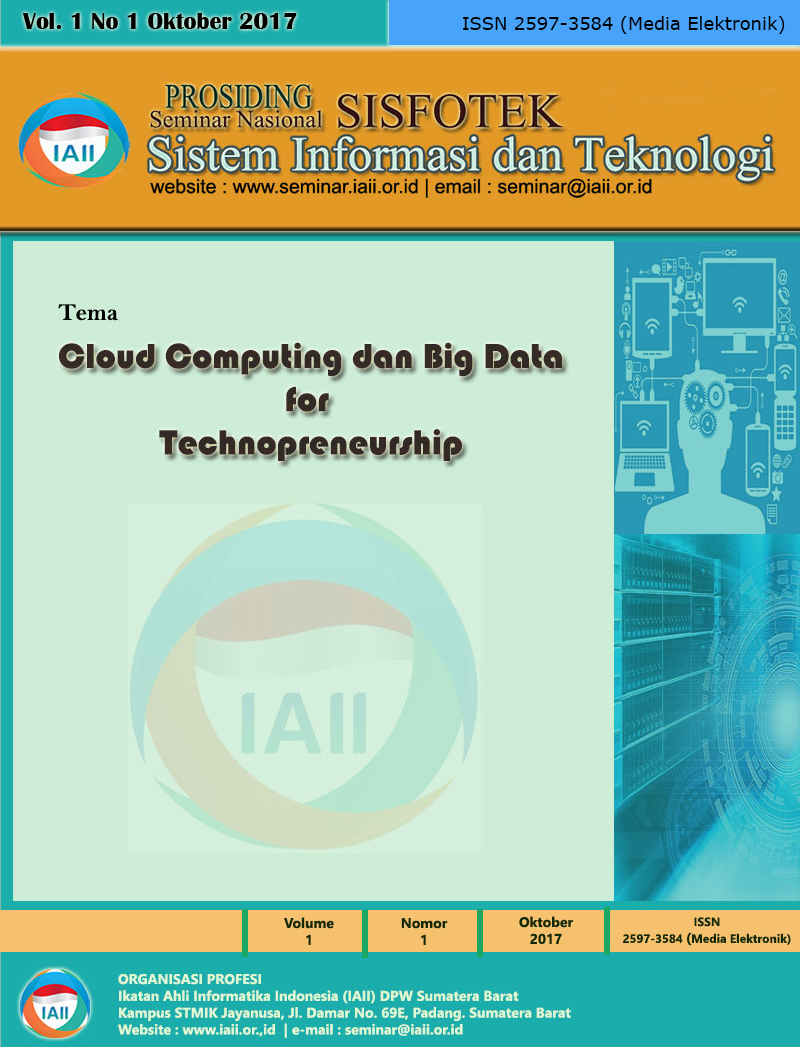 Downloads
How to Cite
Berutu, S. S., & Jatmika, J. (2017). Ontology pada Diagnosa Penyakit Demam Berdarah. Prosiding SISFOTEK, 1(1), 129 - 133. Retrieved from http://seminar.iaii.or.id/index.php/SISFOTEK/article/view/28
Section
3. Data dan Diseminasi Informasi
License
http://creativecommons.org/licenses/by/4.0