Perancangan Sistem Komunitas Seni dan Konten Digital Melalui Platform Berbasis Laman
Keywords:
Photo, Image, Art, Creative
Abstract
Currently, almost every human activity has been controlled by technology. No exception for every human being needs development to develop more advanced. No exception to the world of art and creative industries. Where intellectual resources can be explored indefinitely. Streaming services and applications are expanding on various platforms so that we can enjoy photos, music, games, pictures, videos anytime and anywhere. This is where the opportunity to develop and generate coffers through this service, namely creating various contents to be enjoyed by increasing the distribution media in the creative industry in order to raise the name of Indonesia in the international arena, especially in the creative industry.
References
Badan Pusat Statistik, EKSPOR EKONOMI KREATIF 2010-2016, BPS, 2019.
https://www.kompas.com/skola/read/2020/01/22/16 0000169/seni-pengertian-dan-media?page=all. Diakses tanggal 12 Januari 2021
Kustandi, Cecep, and Bambang Sutjipto, Media Pembelajaran Manual Dan Digital, Bogor: Ghalia Indonesia, 2011
P. D. Roger, S. Pressman, "Rekayasa Perangkat Lunak (Pendekatan Praktisi) Edisi 7?: Buku 1," Teknoif, 2012.
H. Hartono, "Pengertian Website Dan Fungsinya," J. Ilmu Teknol. Inf., 2014.
Munawar, "Analisis Perancangan Sistem Berorientasi Objek dengan UML:Unified Modeling Language," Depok Inform., 2018.
F. Rahman and S. Ratna, "Perancangan E-Learning Berbasis Web Menggunakan Framework Codeigniter," Technol. J. Ilm., vol. 9, no. 2, p. 95, 2018.
A.S . Rosa and S. M, "Rekayasa Perangkat Lunak Terstruktur," in Informatika, 2013.
EllisLab, "CodeIgniter," EllisLab. [Online]. Available: www.codeigniter.com. [Accessed: 12- Jan-2020].
Sha L. (2017) Image Compression. In: Shekhar S., Xiong H., Zhou X. (eds) Encyclopedia of GIS. Springer, Cham. https://doi.org/10.1007/978-3- 319-17885-1_584
http://marslanalam.blogspot.com/2012/08/jpeg-mpeg-compression.html. Diakses tanggal 12 Januari 2021
E. Britannica, "Arts," Encyclopaedia Britannica. https://www.britannica.com/art/visual-arts (accessed Jun. 11, 2021).
A. S. Edy Widodo, "SMART FISHFEED UNTUK BUDI DAYA IKAN AIR TAWAR BERBASIS INTERNET OF THINGS," vol. 10, pp. 155–162, 2020.
F. Lezzar, D. Benmerzoug, and I. Kitouni, "IoT for monitoring and control of water quality parameters," Int. J. Interact. Mob. Technol., vol. 14, no. 16, pp. 4–19, 2020, doi: 10.3991/ijim.v14i16.15783.
O. Köpüklü, A. Gunduz, N. Kose, and G. Rigoll, "Real-time hand gesture detection and classification using convolutional neural networks," arXiv, 2019.
E. A. Gheni and Z. M. Algelal, "Human face recognition methods based on principle component analysis (PCA), wavelet and support vector machine (SVM): a comparative study," Indones. J. Electr. Eng. Comput. Sci., vol. 20, no. 2, pp. 991–999, 2020, doi: 10.11591/ijeecs.v20.i2.pp991-999.A.
M. T. Hastuti, A. W. Widodo, and C. Dewi, "Identifikasi Kondisi Kesehatan Ayam Petelur Berdasarkan Ciri Warna HSV Dan Gray Level Cooccurence Matrix ( GLCM ) Pada Citra Jengger Dengan Klasifikasi K- Nearest Neighbour," J. Pengemb. Teknol. Inf. dan Ilmu Komput. Univ. Brawijaya, vol. 2, no. 3, pp. 1054–1062, 2018.
Q. J. Yin, S. P. Wang, Y. N. Miao, and D. Xin, "Chinese natural language processing based on semantic structure tree," 2015 Int. Conf. Comput. Sci. Appl. CSA 2015, pp. 130–134, 2017, doi: 10.1109/CSA.2015.65.
A. Setiawan and K. M. Suryaningrum, "Optical Character Recognition Jepang Menggunakan Matriks Populasi Piksel Dan L1-Metric," J. Ilm. Teknol. Inf. Terap., vol. IV, no. 1, pp. 62–72, 2017.
A. Setiawan, H. Sujaini, and A. B. Pn, "Implementasi Optical Character Recognition ( OCR ) pada Mesin Penerjemah Bahasa Indonesia ke Bahasa Inggris," J. Sist. dan Teknol. Inf., vol. 5, no. 2, pp. 135–141, 2017.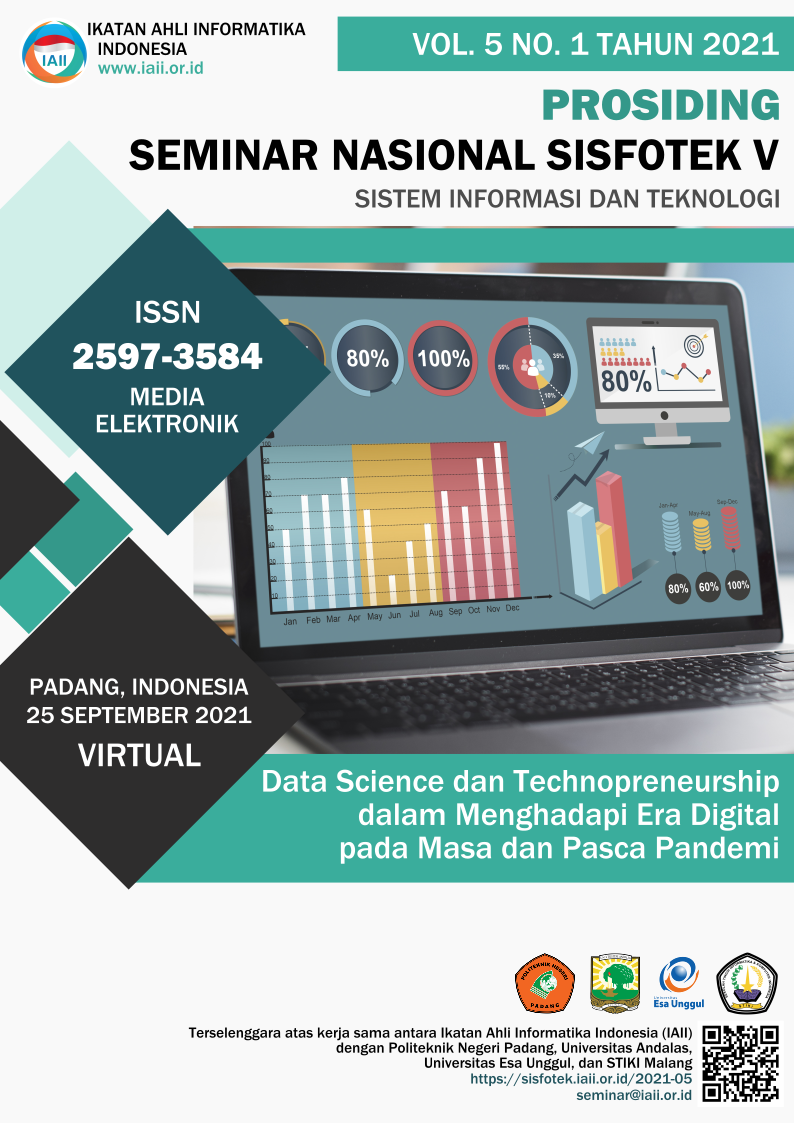 Downloads
How to Cite
Nizirwan Anwar, Randy Swandy, Habibullah Akbar, Ari Pambudi, Agus Satriawan, & Rudi Heri Marwan. (2021). Perancangan Sistem Komunitas Seni dan Konten Digital Melalui Platform Berbasis Laman. Prosiding SISFOTEK, 5(1), 234 - 238. Retrieved from http://seminar.iaii.or.id/index.php/SISFOTEK/article/view/292
Section
1. Sistem Informasi Manajemen
License
Copyright (c) 2021 Hak cipta artikel milik penulis.
This work is licensed under a Creative Commons Attribution 4.0 International License.
http://creativecommons.org/licenses/by/4.0