Monitoring Suara Tangisan Bayi Menggunakan Sensor Suara Berbasis Arduino dan Nodemcu ESP 8266
Keywords:
sound monitoring, sound sensor, baby crying sound, arduino, NodeMCU
Abstract
Inpatient admission is where the mother and newborn are not separated but are placed in the postpartum care room together 24 hours a day. The presence of joining makes nurses not stay in the postpartum room for 24 hours, thus delaying the handling of nurses when the baby cries. The delay in handling has an impact on the baby's health, according to dr. Hari Martono SpA from RSPI-Pondok Indah, crying babies should not be allowed because it will cause Breath-Holding Spell. The purpose of this study was to monitor in real-time the results of a baby crying using the KY-307 sound sensor and using the NodeMCU ESP 8266 microcontroller. The test was carried out using several sound samples (the sound of a baby's cry, the sound of people chatting, the sound of a dog, the sound of a cat, and the sound of a chicken). Tests have been carried out with samples of the baby's crying sound 30 times at a distance of 3cm – 15 cm in the room. The results of the test show that the tool is able to distinguish the sound of a baby's cry and not a baby's cry. The technique of distinguishing sounds is processed based on the number of waves and wavelengths. The test results obtained the fact that the tool has an error value of 40% and an accuracy value of 60%. In addition to the fact that the KY-037 sensor's the best ability to capture sound waves in the range of 5 -10 cm.
References
D. Anurogo, "Manajemen Menangis pada Bayi," Cermin Dunia Kedokt., vol. 46, pp. 8–13, 2019.
I. Oktiriani, Perilaku Baby Blues Syndrome Pada Ibu Pasca Melahirkan Di Kelurahan Sekaran, Kecamatan Gunung Pati. 2017.
P. F. Ramandanty, "Asuhan Keperawatan Pada Ibu Post Operasi Sectio Caesarea Di Ruang Mawar Rsud A.W Sjahranie Samarinda," Politek. Kesehat. Kalimantan Timur, Jur. Keperawatan, pp. 1–125, 2019.
R. Muhammad, Z. Painan, D. Rumah, S. Umum, D. Muhammad, and Z. Painan, "RSUD Dr. MUHAMMAD ZEIN PAINAN," no. 0756, 2019.
I. Meizinta, E. S. Ningrum, B. Sena, and B. Dewantara, "Rancang Bangun Sistem Sensor Untuk Aplikasi Voice Recognition Pada Ayunan Bayi Otomatis," vol. 2012, no. Ies, pp. 155–159, 2012.
I. Safitri and D. K. Sutiari, "Rancang Bangun Sound Level Meter Berbasis Mikrokontroler (Alat Pendeteksi Kebisingan Pada Bayi)," J. TEMIK (Teknik Elektromedik), vol. 4, no. 1, 2018.
N. A. Purba, E. K. Allo, S. R. U. A. Sompie, and Bahrun, "Rancang Bangun Alat Pengayun Bayi Dengan Sensor Suara dan Kelembaban," E-Journal Tek. Elektro Komput., vol. 2, no. 1, pp. 1–9, 2013.
N. Nursalim, D. E. D. . Pollo, and E. Y. W. Paratu, "Perancangan Sistem Kontrol Ayunan Bayi Otomatis Dan Monitoring Sensor Menggunakan Aplikasi Android," J. Media Elektro, vol. X, no. 1, pp. 22–31, 2021, doi: 10.35508/jme.v0i0.3808.
H. Al Fani, S. Sumarno, J. Jalaluddin, D. Hartama, and I. Gunawan, "Perancangan Alat Monitoring Pendeteksi Suara di Ruangan Bayi RS Vita Insani Berbasis Arduino Menggunakan Buzzer," J. Media Inform. Budidarma, vol. 4, no. 1, p. 144, 2020, doi: 10.30865/mib.v4i1.1750.
T. G. Sejati, A. Rizal, and A. A. Gozali, "Klasifikasi Suara Burung Lovebird Menggunakan Spectrogram dan Logika Fuzzy," no. September, pp. 193–195, 2015.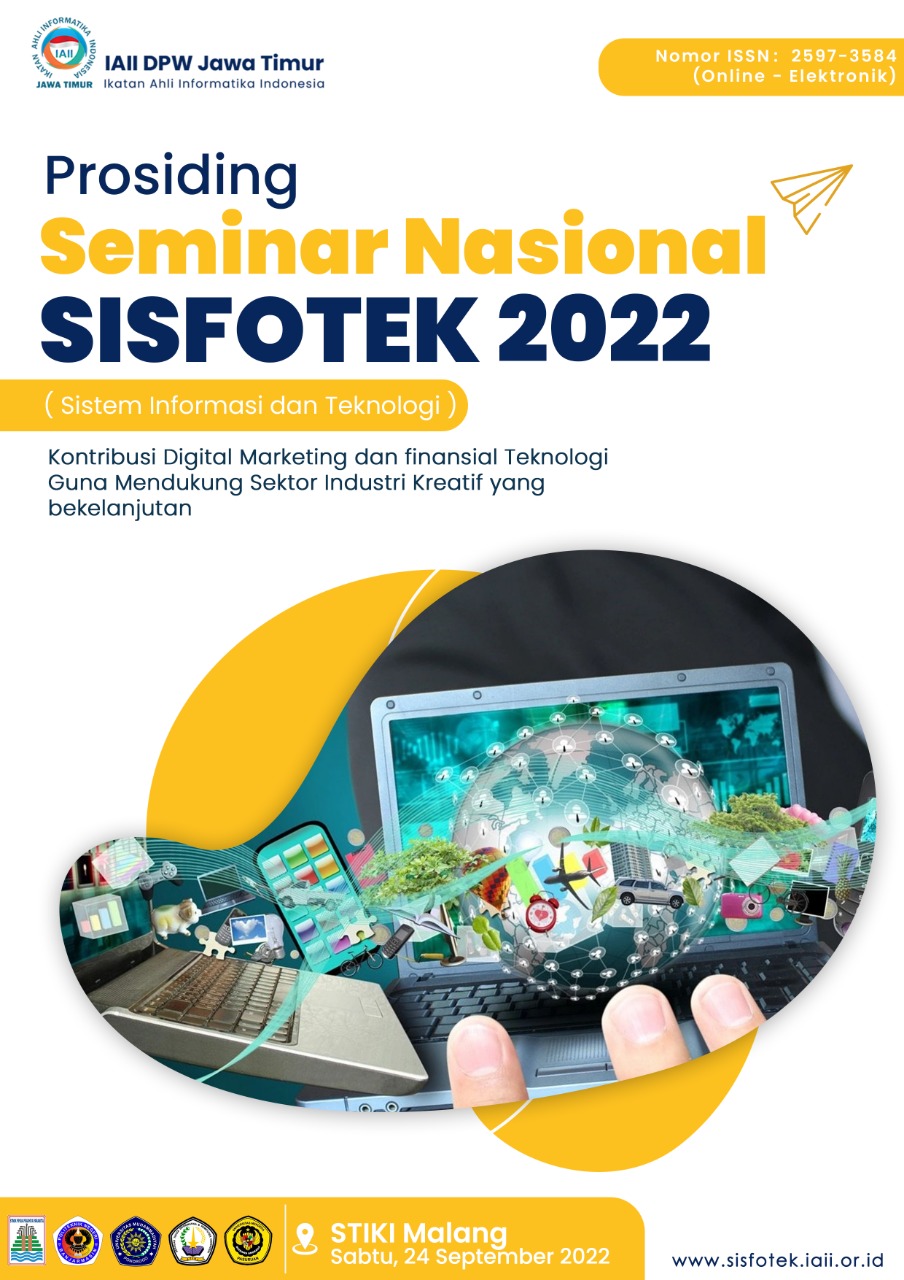 Downloads
How to Cite
Aminatus Zainiyah Assahlanie, Khoerul Anwar, & Sigit Setyowibowo. (2022). Monitoring Suara Tangisan Bayi Menggunakan Sensor Suara Berbasis Arduino dan Nodemcu ESP 8266 . Prosiding SISFOTEK, 6(1), 129-134. Retrieved from http://seminar.iaii.or.id/index.php/SISFOTEK/article/view/340
Section
5. Teknologi & Komputer
License
Copyright (c) 2022 Aminatus Zainiyah Assahlanie
This work is licensed under a Creative Commons Attribution 4.0 International License.
http://creativecommons.org/licenses/by/4.0