Evaluasi Aplikasi Business Intelligence pada Proyek Indonesia WIFI PT. PINS Indonesia
Keywords:
Business Intelligence, WIFI, Project, PT.PINS Indonesia
Abstract
Dewasa ini berbagai jenis perusahaan telekomunikasi bermunculan seiring berkembangnya teknologi. Oleh karena itu, strategi untuk menjadi penguasa pasar khususnya dalam bidang telekomunikasi sangat dibutuhkan. PT.PINS Indonesia yang merupakan salah satu anak perusahaan PT. Telkom Indonesia adalah salah satu perusahaan yang menerapkan  Business Intelligence(BI). Dengan adanya proyek Indonesia WIFI, PT.PINS Indonesia menggunakan dua aplikasi yaitu Finsys dan Testcomm untuk membantu pelaksanaan proyek. Dengan menggunakan metode studi pustaka dan wawancara terhadap salah satu manajer proyek WIFI Indonesia, makalah ini akan membahas tahapan yang dilakukan saat penerapan Aplikasi Finsys dan bagaimana Finsys membantu mempertanggung-jawabkan Accrument list of project serta bagaimana melakukan data controlling dengan menggunakan aplikasi Testcomm. Hasil dan kesimpulan makalah ini menunjukkan bahwa BI yang dimplementasikandalam bentuk aplikasi Finsys dan Testcomm berperan aktif dalam pengembangan perusahaan dan membantu penggunadi dalam pengerjaan Proyek IndonesiaWIFI.
References
[1] Xmannink, 2013. Business Intelligence. [Online] (Updated 10 Okt 2013) Available at: http://xmannink.wordpress.com/tag/business-intelligence/ (Accessed 10 Oktober 2013).
[2] Sulianta, Feri,danJuju, D., 2010. Data Mining. Jakarta: Elex Media Komputindo.
[3] Irene, J., 2009. BelajarCepatKomputerPanduanuntukProfesiKesehatan. Jakarta: EGC.
[4] Wikipedia, 2013. Generic Data Warehouse Environment. [Online] (Updated 12 Okt 2013) Availableat: htttp://en.wikipedia.org/wiki/Data_warehouse#Generic_data_warehouse_environment/ (Accessed 12 Oktober 2013).
[5] Niu. 2009., Cognition-Driven Decision Support for Business Intelligence. Netherlands: Springer.
[6] Power, D.J., 2002. A Brief History of Decision Support Systems. USA: DSSResources.
[7] Hall, O.P., 2001. Mining The Store. The Journal of Business Strategy, 22(2), pp.24-27.
[8] Santoso, Singgih. 2006. Seri SolusiBisnisBerbasis TI: Menggunakan SPSS untukStatistikParametrik. Jakarta: PT Elex Media Komputindo.
[9] Holly, I., 2006. Business Concepts Implementation Series In Sales and Distribution Management. Jakarta: PT Elex Media Komputindo.
[10] Indonesia WIFI, 2013. About us. [Online] (Updated 1 Nov 2013) Available at: http://indonesiaWIFI.com/aboutus.html (Accessed 1 November 2013).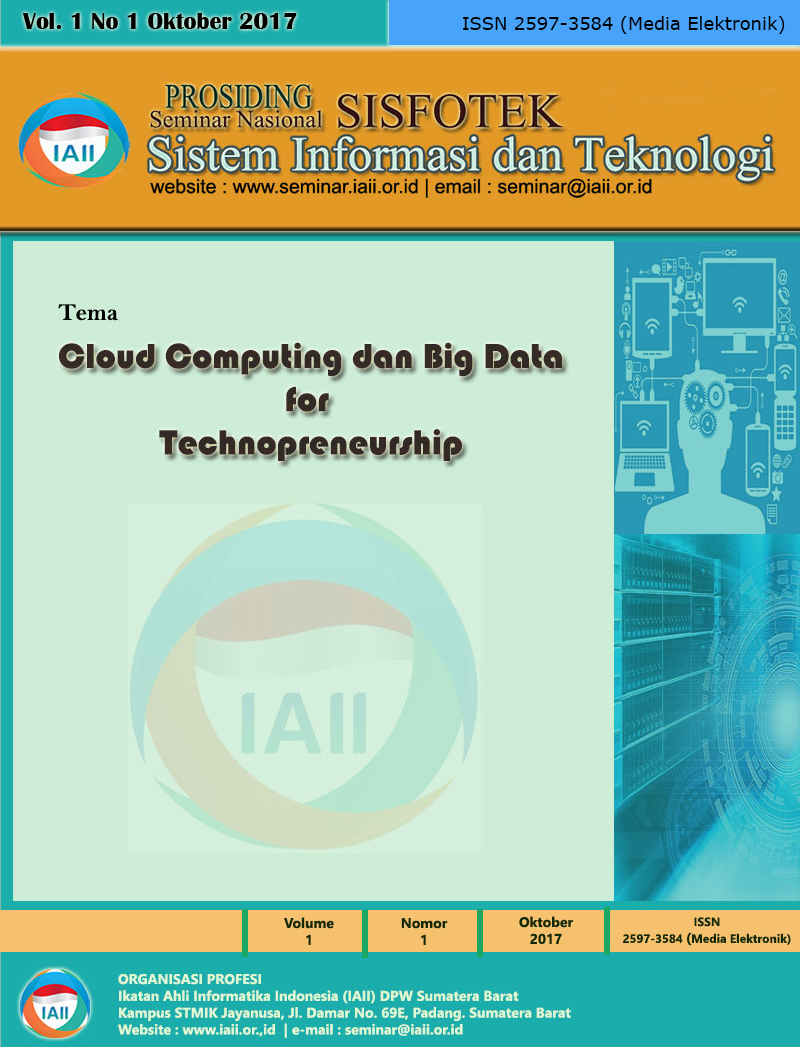 Downloads
How to Cite
Avinda, M., Tarigan, R. E., & Widjaja, A. E. (2017). Evaluasi Aplikasi Business Intelligence pada Proyek Indonesia WIFI PT. PINS Indonesia. Prosiding SISFOTEK, 1(1), 1 - 6. Retrieved from http://seminar.iaii.or.id/index.php/SISFOTEK/article/view/9
Section
1. Sistem Informasi Manajemen
License
http://creativecommons.org/licenses/by/4.0