Faktor Kendala Peningkatan Skill Guru Dalam Penggunaan Software Microsoft Office
Keywords:
teacher skill, teacher skill improvement, use of microsoft office software
Abstract
The use of microsoft office software will be very helpful and facilitate the work of teachers in schools. With the office application, teachers can prepare lesson plans using word, operate student value data using excel, and present Learning media using powerpoint. This study was conducted to analyze the constraints of improving teacher skills in the use of microsoft office software in MAN 4 Aceh Besar. This study is a quantitative study, with data retrieval techniques using questionnaire instruments distributed to 51 respondents in Man 4 Aceh Besar. The data obtained were analyzed by researchers with multiple regression analysis techniques using SmartPLS 3 software. The results of this study can be seen from the value of R-Square (R2), which is equal to 0.860. This means that the contribution and influence of the age variable (X1), ICT facilities (X2) and training (X3) to the teacher competency level variable (Y) in MAN 4 Aceh Besar was 86% with a high category. From the results of hypothesis testing that has been done that the alternative hypothesis (Ha1, Ha2, and Ha3) can be accepted and rejected the null hypothesis (Ho1, Ho2, and Ho3), meaning that age (X1), ICT facilities (X2) and training (X3) significantly affect the level of competence of teachers (Y). In accordance with the results of the evaluation of the outer and inner models and hypothesis testing results can be concluded that the age factor of teachers, ICT facilities and education and training (training) teachers significantly affect the improvement of competence and ICT skills of teachers. With this it can be said that the age of teachers, ICT facilities and training are things that become obstacles in improving teacher skills, especially in the use of microsoft office software at MAN 4 Aceh Besar.
References
K. H. P. Abd., "Kinerja Guru dalam Meningkatkan Mutu Pendidikan di SMA Negeri 1 Lore Utara," J. Ilm. Adm., vol. 12, no. 1, pp. 1–9, 2019.
A. Rasyidah, J. Marzal, and D. M, "Investigasi Pengetahuan, Keterampilan dan Implementasi Teknologi Informasi dan Komunikasi (TIK) Guru Matematika SMA/MA di Kabupaten Tanjung Jabung Barat," Edu-Sains J. Pendidik. Mat. dan Ilmu Pengetah. Alam, vol. 4, no. 2, 2015, doi: 10.22437/jmpmipa.v4i2.2534.
Fathahillah and Suhartono, "Analisis Kemampuan Guru TIK dalam Menggunakan Ms. Office di Kabupaten Gowa," in Seminar Nasional Pendidikan Vokasi, 2017, pp. 62–66.
Badan Standar Nasional Pendidikan, Peraturan Menteri Pendidikan Nasional Republik Indonesia No. 16 Tahun 2007 tentang Standar Kualifikasi Akademik dan Kompetensi Guru. 2007.
F. R. Rahim, D. S. Suherman, and M. Murtiani, "Analisis Kompetensi Guru dalam Mempersiapkan Media Pembelajaran Berbasis Teknologi Informasi Era Revolusi Industri 4.0," J. Eksakta Pendidik., vol. 3, no. 2, pp. 133–141, 2019, doi: 10.24036/jep/vol3-iss2/367.
Fitria and S. Arfida, "IbM untuk Peningkatan Kompetensi Guru dalam Penggunaan Aplikasi Komputer di Bandar Lampung," J. Teknol. Inf. dan Bisnis Pengabdi. Masy. Darmajaya, vol. 1, no. 2, pp. 83–91, 2015.
I. Hermawan, Metodologi Penelitian Pendidikan Kualitatif, Kuantitatif dan Mixed Method. Kuningan: Hidayatul Quran Kuningan, 2019.
F. E. B. Setyawan, Pengantar Metodologi Penelitian (Statistika Praktis). Sidoarjo: Zifatama Jawara, 2017.
Riduwan and H. Sunarto, Pengantar Statistik untuk Penelitian?: Pendidikan, Sosial, Komunikasi, Ekonomi dan Bisnis, 9th ed. Bandung: Alfabeta, 2017.
D. Ayatulloh Michael Musyaffi, Hera Khairunnisa and K. Respati, Konsep Dasar Structural Equation Model- Partial Least Square (SEM-PLS) Menggunakan SmartPLS. Tangerang Selatan: Pascal Books, 2022.
I. Ghozali, Aplikasi Analisis Multivariate Dengan Program IBM SPSS 21 Update PLS Regresi. Semarang: Badan Penerbit Universitas Diponegoro Semarang, 2013.
I. Zulaikah, "Problematika Guru dalam Peningkatan Kompetensi di SD Negeri 1 Simo," J. Chem. Inf. Model., vol. 53, no. 9, pp. 1–8, 2017.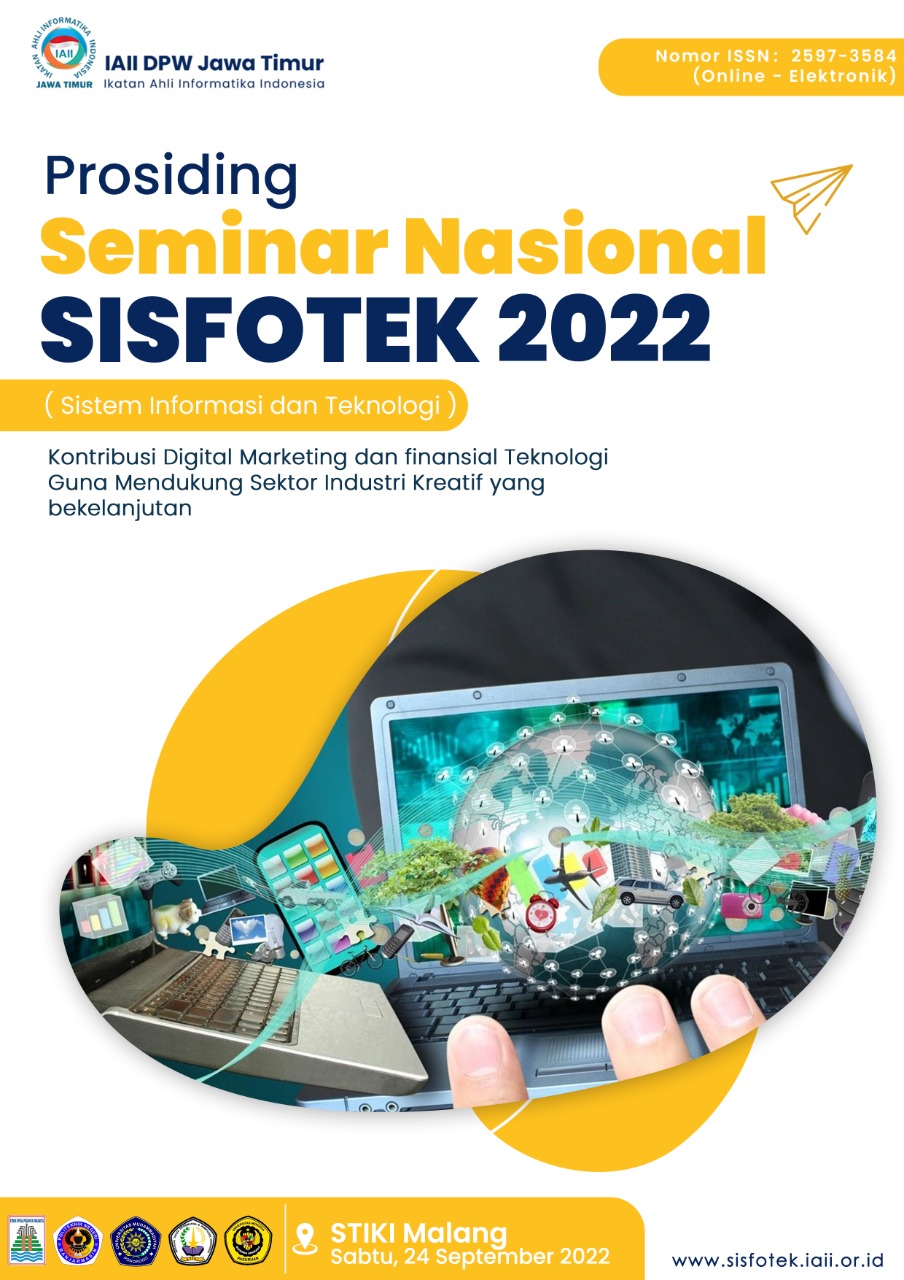 Downloads
How to Cite
Rahmat Musfikar, Hendri Ahmadian, & Nora Rizkina. (2022). Faktor Kendala Peningkatan Skill Guru Dalam Penggunaan Software Microsoft Office . Prosiding SISFOTEK, 6(1), 161-168. Retrieved from https://seminar.iaii.or.id/index.php/SISFOTEK/article/view/357
Section
5. Teknologi & Komputer
License
Copyright (c) 2022 Rahmat Musfikar
This work is licensed under a Creative Commons Attribution 4.0 International License.
http://creativecommons.org/licenses/by/4.0