Evaluasi Quality of Service Jaringan Internet
Keywords:
Parameter Quality of Service (QoS), Action Reseach, Axence NetTools
Abstract
Rumah Sakit Kusta Dr. Rivai Abdullah Palembang adalah sebuah instansi yang bergerak pada bidang kesehatan. Rumah Sakit Kusta Dr. Rivai Abdullah Palembang adalah salah satu instansi yang kesehatan yang memanfaatkan jaringan internet untuk melakukan kegiatan pengelolaan data Quality of Service (QOS) digunakan untuk mengukur tingkat kinerja koneksi jaringan internet yang bertujuan untuk meningkatkan kualiatas layanan internet bagi Rumah Sakit Kusta Dr. Rivai Abdullah Palembang. Metode yang digunakan adalah action reseach yaitu metode tindakan bertujuan bahwa teori dan praktik dapat diintegrasikan dengan pembelajaran dan menggunakan tools yang digunakan adalah Axence NetTools5. Faktor yang dapat mempengaruhi Quality of Service (QOS) jaringan yaitu redaman, distorsi, noise dan kapasitas bandwith. Dan parameter yang digunakan dalam Quality of Service (QOS) meliputi throughput, packet loss, delay dan bandwidth . Hasil evaluasi setelah diagnosis terhadap rumusan permasalahan agar dapat memaksimalkan kinerja jaringan internet dalam melakukan kegiatan pengelolaan data pada Rumah Sakit Kusta Dr. Rivai Abdullah Palembang agar lebih baik dan efisien.
References
[1] Arifin. Zaenal. (2005). Langkah Mudah Membangun Jaringan Komputer. Penerbit Andi.Yogyakarta.
[2] Arikunto, Suharsimi. (2010). Manajemen Penelitian. Rineka Cipta. Jakarta.
[3] Davidson, R,M., Martinsons, M.G.,Kock, N. (2004).Principles Of Canonical Action Research. Information System.
[4] Kamarullah,A. Hafiz. (2009). Penerapan Metode Qquality Of Service pada Jaringan Traffic Yang Padat .Jurnal Jaringan Komputer. Universitas Sriwijaya.Palembang.
[5] Luthfi. (2005). Istilah Komputer dan Internet. Pena Media. Yogyakarta.
[6] Stalling, William. (2011). Cryptography and Networking Security.Prentice Hall.
[7] Stark, J.S. & Thomas, A. (1994). Assessment and program evaluation. Simon & Schuster Custom Publishing. Needham Heights.
[8] Suhervan. (2010). Analisis Penerapan QOS (Quality Of Service) Pada Jaringan Frame Relay Menggunakan Cisco Router. Jurnal Teknik Informatika. Universitas Esa Unggul. Jakarta.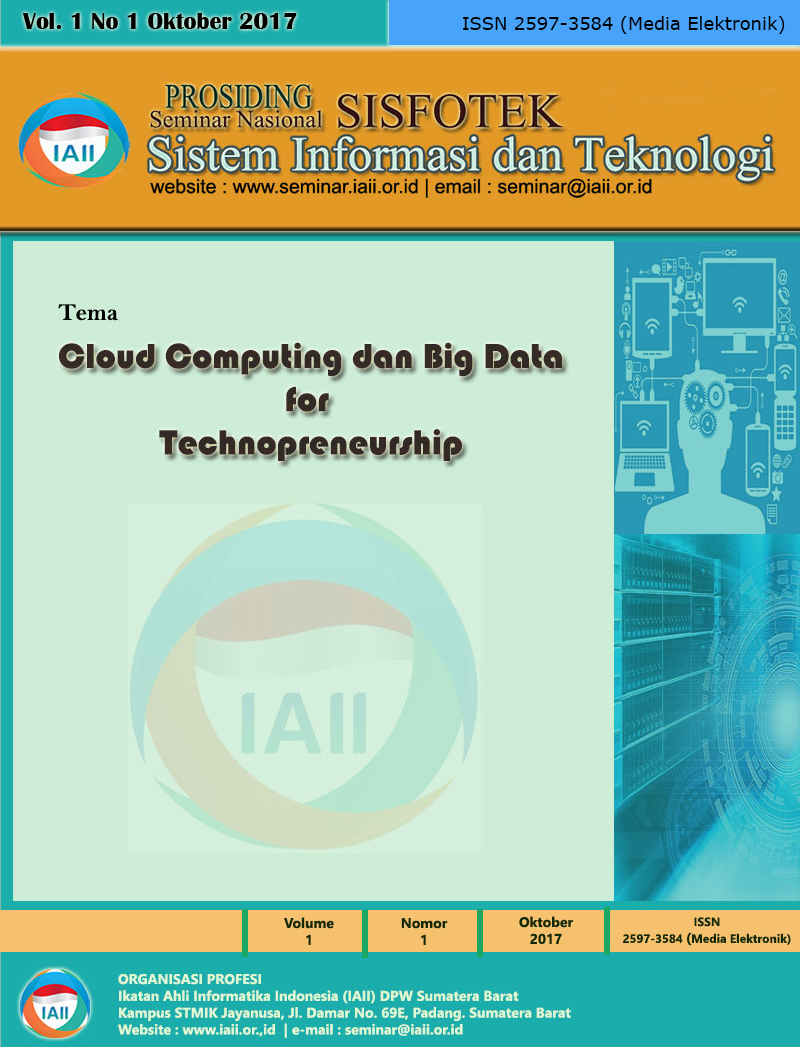 Downloads
How to Cite
Wijaya, A., & Rasmila, R. (2017). Evaluasi Quality of Service Jaringan Internet. Prosiding SISFOTEK, 1(1), 186 - 192. Retrieved from http://seminar.iaii.or.id/index.php/SISFOTEK/article/view/36
Section
5. Teknologi & Komputer
License
http://creativecommons.org/licenses/by/4.0